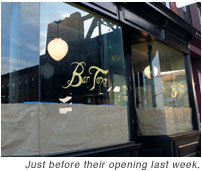 We'd finally made it all the way to Park Slope, it was less than warm, and I'm pretty sure I had mascara on my forehead from frantically trying to fix my make-up on the subway. You can imagine my dismay when the only boy I really wanted to see on my trip to New York wasn't even home. But we couldn't just call him! It would be much better if we 'just happened to be in the neighborhood'. "They can't be far. Their car is here!" But how were we gonna kill an hour in the middle of residential nowhere in 20 degree weather? That's when we found it. BAR TANO. A little haven of happiness with pressed tin walls and a zinc bar.

The perfect place to munch and drink away our boy-crazed anxiety. And although they don't serve my personal favorite anti-anxiety remedy (martinis and French fries), they have the next best thing: beer and homemade potato chips. Not to mention the only other patron was a really cute New York Times photographer snapping flicks of the new spot. (So get there soon, before the Sunday Times runs a piece and it's impossible to get in.) And just as we bit into the most delicious gorgonzola/honey and gruyere/fig jam bruschetta, guess who called?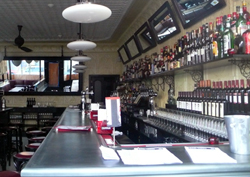 We giddily savored the rest of our bruschetta, downed our drinks and turned the corner back where we started. We were greeted by Boy 1, playing video games and wearing a mint-condition Donald Duck Disneyland hat he'd recently purchased on Ebay, which he seemed more interested in than us. And even though I thought I was irresistible and charming, Boy 2 and I exchanged maybe two words.

When we left I turned to my girlfriend, deflated, "He barely even LOOKED at me!!" "Maia, he sat in the corner with his head down and sang a little song with his guitar. That's Brooklyn for 'I like you'." We probably should've stayed at Bar Tano, taste-testing the rest of the extensive tapas menu, but now we have a reason to go back. And a real reason to 'just happen to be in the neighborhood'.

Bar Tano
457 Third Ave., Gowanus; (718) 499-3400
Open Sun-Thu, 5pm-midnight; Fri-Sat, 5pm-2am
Maia Harari is a writer and choreographer. Her most recent credits include It's All in Your Head, 2003 and Danse Macabre, 2000, and she is currently working on Confetti, an episodic internet series chronicling the lives of twenty-somethings running wild in LA. She works at Spyglass Entertainment and lives in Los Angeles.