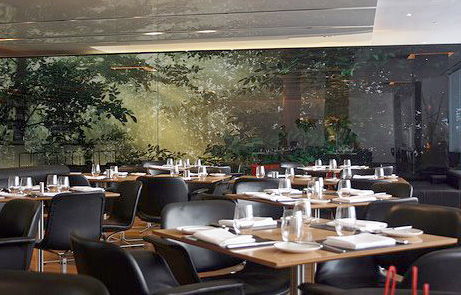 My friend, Barbara and I were escaping the icy tundra of Maine for a long weekend in New York City to indulge in great food, theater and art.
We started our Sunday morning at the MOMA as the doors opened. Up to the fifth floor we flew. As I walked into the first gallery I was overcome with the 'scent' of a museum. I love that smell. My soul was being 'refilled'. I was free floating in art heaven when I noticed Barbara looking at her watch so we wouldn't be late for the lunch reservations she made. I looked the other way and thought about disappearing into the crowd. We had 2 more floors when it was time to go. I thought, today lunch is such an interruption.
Our greeting from the Maitre D' was warm, friendly and he was impeccably attired. He led us to a nice table with a stellar view of the printed glass mural by Thomas Demand, Clearing II. I was concerned that only two tables were occupied-why was this not a popular place? At that point, I had no idea there was a restaurant worthy of a Michelin star in the MOMA and we had lunch reservations at it. Yes, it was the Bar Room at The Modern. I hadn't asked a single question about our Sunday reservations. A simple, quick lunch and back to exploring two more floors of art was exciting enough for me.
The light filled dining room had a 'feel' to it that was puzzling. What I expected was not what I was seeing. The oversized floral arrangements made the room look so luxurious. Riedel wine glasses for Riesling wine at the table close by and you rarely see Riesling glasses.
I quickly picked up the menu and took a peek. Oh my, what had we wandered in to? Ten minutes ago I only hoped for a quick lunch now I didn't care if we were a bit late to the Frick museum. I hoped the Girl with the Pearl Earring would understand.
My lunch was one of a handful of great meals I've had in my life. I wish I had known what I was walking into but I think it added to the delightful unexpectedness of the experience. I had never been blind-sided by a food experience before, others things, yes-but not by food.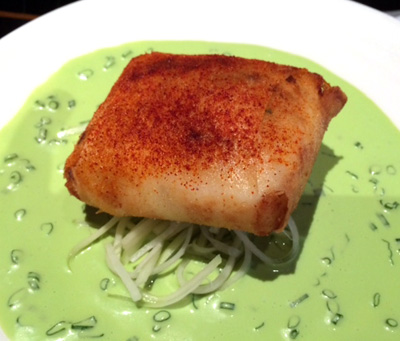 I skimmed all 3 pages of the menu and then I started studying it.
My head was spinning over the list of starters-
Scottish salmon tartare with puffed barley and cilantro gelee- I could see the composition of the plate in my mind. Grilled shrimp with green cabbage and Gruyere salad- my taste buds were dripping with pleasure. The Modern liverwurst with pickled vegetables- I could see us ordering all 12 starters. We would need a bigger table off in a less visible corner.
I turned to the second page and it was even more fantastic.
Fish and Shellfish. Slow-poached farm egg in a jar with Maine lobster, honshimeji mushrooms and sea urchin froth- did they know I was coming? Skates wings, diver's scallops, and cod with wild mushrooms and leek brick with green papaya salad and chive sauce. How would I ever decide? There it was the last on the list - Alsation buckwheat spaetzle with yellow tuna paillard crudo, roasted foie gras, pinenuts and black pepper gastrique- I could imagine my sauce spoon making love to it.
And then I turned to the last page.
Meats. Tripe, they have tripe on the menu. I love tripe and I felt deeply guilty when I kept on reading. Beef cheeks, double lamb chops, duck confit a l'orange, house made Alsatian country sausage with sauerkraut and whole grain mustard. There it was- Berkshire pork belly with sweet potato mousseline, Brussels sprouts and pecans. It had my initials on it, this was my dish. I felt like Cinderella at a Michelin starred restaurant. Eloise, you can have the Plaza, this place is all mine.
In my extreme exuberance I failed to mention we both ordered a red endive and arugula salad with red kuri pumpkin, honey crisp apple, with ricotta salata but the farm egg with lobster, mushrooms and uni foam was calling loudly. I opted for healthy but now that I am home I am ravaged with regret. I have composed and retested it many times in my mind. My version is served in an antique flip top jam jar with a tiny silver spoon with a longish handle. The textures are seamless, everything is where it should be-barely poached lobster claw on the bottom, mushrooms on top and then the whole farm egg holding everything in suspension - a perfect custard. The shiny uni foam on top is exactly the same color as the honshimeji mushrooms that dot the custard like a handmade bow for a loved one's present.
I was about to eat from the hands of a genius alchemist and I was filled with joy and anticipation.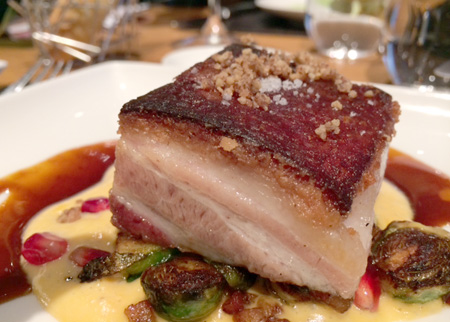 Our salads were a study in impressionistic food art. The chef's skilled hands dabbled bright colored vegetables freely placed like brush strokes on the shiny white oversized porcelain canvas. It was a masterpiece to ponder. The pumpkin seed oil and delicate cider vinaigrette was like holy oil of aspiration - a magical blend from aromatic plant material. As I studied my salad the noise of the rapidly filling dining room completely disappeared. My eyes never left our small but ample table for I was in a trance and content to be in it.
The skilled wait staff watched our conversation and eating rhythm and served each course perfectly timed. We neither waited or felt rushed - the cadence of service was never broken.
My Berkshire pork belly with sweet potato mousseline, Brussels sprouts and pecans looked like Kandinsky's Circle in a Circle - no kidding! My lacquered pork belly was placed off center on top of a circular bed of the sweetest potato mousseline. The mousseline was lightened with butter and cream, pureed and then passed through a sieve. It was like velvet, light and well seasoned with a wisp of nutmeg. Baby roasted Brussels sprouts happily muzzled around the sides of the pork belly. Around the outer edge of the mousseline was a sweet and sour gastrique made with maple sugar and cider vinegar to create balance. Jumbo pecans toasted in butter garnished the outer edge as pomegranate arils gave a tart contrast to the sweet potato puree.
I was speechless as I studied it and I was still speechless as I ate it. I could hear my mother saying "it's that good? Order it again!" And I almost did…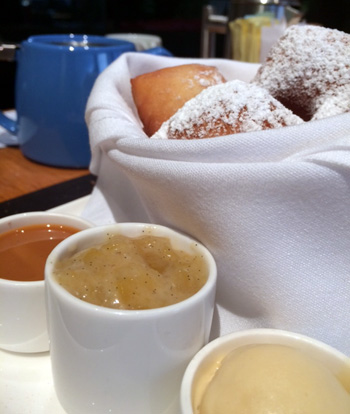 I rarely order dessert. I wasn't missing anything that came from this kitchen including dessert. Beignets were on the menu and until that day I had never eaten a 'good one' but I had confidence if there is such a thing as a perfect beignet it would be here. After eating my last bite I knew that I had just eaten the perfect beignet. My life search was over.
My 5 hot beignets showered with powder sugar were complemented with 3 separate ramekins of warm mango cardamom compote, hot caramel sauce and the best caramel ice cream this side of Paris. Oh, my goodness, I am reliving it as I write. Can you imagine the flavors and textures intertwining? Trust me, they did…
Who knew that Lunch at an art museum could so wonderful….
The Museum of Modern Art
11 West 53 Street
New York, NY 10019-5497
(212) 333-1220
Brenda Athanus runs a small gourmet food shop in Belgrade Lakes, Maine with her sister Tanya called the Green Spot.
The Green Spot
This email address is being protected from spambots. You need JavaScript enabled to view it.
207.441.9327