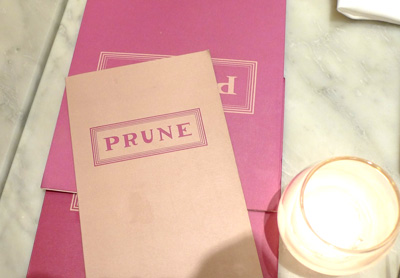 Did I read Gabrielle Hamilton's Blood, Bones, and Butter? Yes. Is it why we went for dinner at Prune? Yes. Am I glad we did? Absolutely!
Our taxis slowed down on a narrow street in NYC's East Village as our driver struggled in the darkness to find street numbers. All of a sudden car headlights appeared in back of us and laid on their horns breaking the peaceful silence of a short East Village street. Our driver assured us we were very close to Prune even though none of us could find the storefront. We exited the cab after ending our conversation on home cooking in his native Ghana and thanked him for our cab ride filled with stories. Once we were out of the cab finding Prune restaurant was simple. We could smell the aroma slipping through the multiple cracks in the painted black storefront. We followed our noses like rabid bloodhounds catching a scent.
Shabby chic? Most definitely! No, I don't think a set decorator could fabricate the wornness of this restaurant nor would they want that on a resume. I think it earned its wornness over many decades. Maybe I am wrong and maybe it is faux but this place is a charmer and it is as comfortable as a pair of UGG slippers. It's a place you dream of having in your neighborhood - but don't.
The food isn't perfect but it is just perfectly real. The salad greens we ordered were classically 'too' large but the olive oil that dripped from them was a luscious yellow green and I know that it was freshly pressed last month. So, if you go, pick up your knife and fork and focus on the realness. I loved the simplicity of the food and its surroundings.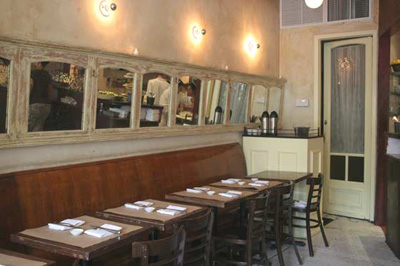 I was seated at a chair facing the wall at our tiny table for two. Ah, the best seat in the house you think - well, not exactly. A nice one because I had a wall of mirrors to look into that gave me a splendid panoramic view of the whole room. This restaurant has my favorite feel to it of a turn of the century Parisian bistro. The same small tables placed too close together, the worn burgundy velvet banquette hugged the whole length of the wall, the continuous mirrors and the unbashful aroma of real food cooking filled the room with a dose of old Paris.
The walls were cracked, original plaster and I could feel the many stories and secrets leaping out to add us to the list. The wall corners didn't meet - this place was very worn or well loved but I think, both.
I look forward to eaves-dropping on surrounding conversations as much as dinner and I don't feel guilty or embarrassed to admit it - it's my kick back for overly tight seating.
The table on our right was embroiled in a deep conversation about an ended relationship - an epic ending. She retold her male best friend who came to town to make sure she was okay and to help 'right' her as she listed, precariously. What our neighboring table ordered must have been simply delightful. How do I know? As each new course arrived the female victim stopped flailing her hands, picked up a spoon or fork and let out a contented sign, finishing her dish, cleaning the last drop of sauce with pieces of bread. Then went back to flailing her hands but with a smile that lasted several minutes until her hurt face reappeared.
I love New York because there is a priceless story being told in every direction and all you have to do is turn your head to listen. And as I age, I appreciate a tight restaurant so I can hear more easily.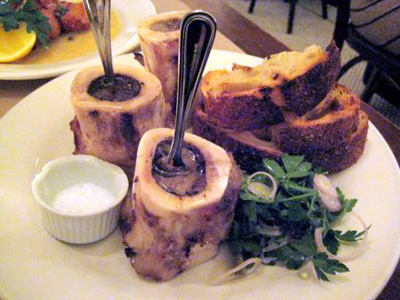 I ordered the roasted beef marrow bones as my starter. I adore any kind of marrow and I have waited most of my life to finally be able to order this in a restaurant instead of snitching a hot marrow bone destined for my canine kids. What took so long America? The accoutrements of course were proper gray salt, grilled bread smeared with the same luscious green olive oil and the green vinaigrette/sauce tasted like the first day of spring. So alive in the middle of a harsh New England winter. The kitchen hand minced the herbs and olives with a touch of tarragon, lots of flat leaf parley, a wisp of oregano, lots of small whole capers and a drizzle of French olive oil. The kitchen had created a flawless condiment that took plebian beef bones by the hand into a gastronomic orbit.
For my main course how could I not order rare magret de canard with potatoes cooked in duck fat and served on arugula? It is exactly what I love to eat for a Sunday night dinner. It was cooked to perfection and served properly on a warmed plate. The thick potato slices were crisped and flavorful with duck fat and sprinkled with coarse sea salt. The thick sliced breast was served on point as the heat and juices wilted the bed of arugula on cue. I wish I had asked for a ramekin of green sauce that was still making my taste buds quiver. I'm not saying that it needed anything, but…
The couple that sat on the other side of us didn't talk very much- they were into the food and each other and I think they had 'read' the book. I never noticed when they left, that is how wonderful my duck breast was. Odd in hindsight as they were less than 14 inches away.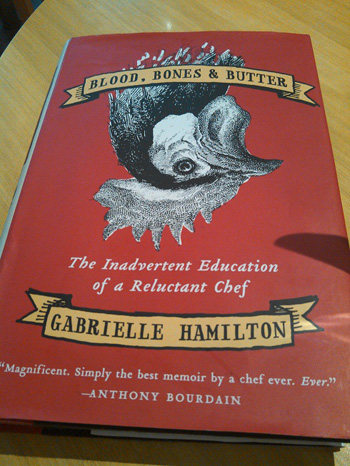 As soon as my plate was empty and my trance broken I noticed a single man had replaced the food loving couple. He had 'the book' placed on the table hoping, I think that Ms. Hamilton would appear and graciously offer to sign it.
When I finally noticed his arrival he had a mouthful of endive and frisee salad. I couldn't take my eyes off him as I watched his eyes shut tightly as he savored each bite. His contented smile never ending for the longest time. I thought, wow, he is an old fashiond epicurean and you don't see that often, anymore. My dinner companion and I both enjoyed watching him repeatedly chew and swallow and then Barbara started talking to him once he opened his eyes and his story unfolded.
He was from Texas, an engineer, at a convention with 100's of other engineers, blah, blah, blag. I couldn't hold myself back from asking him about the extraordinary salad we had watched him consume. "What do you mean?" he replied with a drawling East Texas accent. I explained, "You eat so intensely, extracting every drop of pleasure from your food. You had my full attention watching you slowly savor that salad". He looked puzzled and said, "I ordered it because I've never had anchovies before and I wanted to know if I liked them" "So, what did you decide?" I asked. "I think so, not sure-e-e."
I had mistakenly fantasized about this man because I have wished someday to be lucky enough to sit next to a reincarnated Waverly Root or Diamond Jim Brady. I would watch with anticipation, appreciation and curiosity to see what brilliant course they ordered next. So, my perception of him was a little inaccurate and I was disappointed, yet again….
We had eaten every 2 hours for the last 3 days but neither of us thought it wise to pass on dessert that night. We decided to split one piece of ricotta cheesecake. It wasn't my first choice. It's nothing I normally would order, BUT even that was memorable. A browned butter crust with lovely soft crumb and the ricotta filling was punctuated with toasted pine nuts and cooked to perfection.
And on a final note: the staff was as competent and friendly as the food was simple and perfect. Thank you, Ms. Hamilton and professional staff for all your effort, our dinner was simply perfect.
Prune
54 E 1st St, New York, NY 10003 (and follow the aroma)
Phone:(212) 677-6221
Prices:$$$
Hours: 5:30 – 11:00 pm