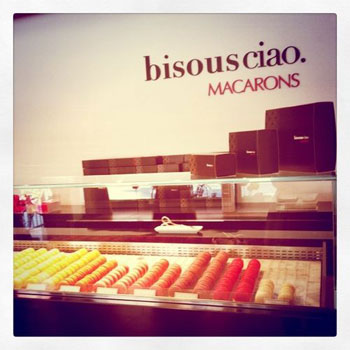 I've never been the type to have a candy drawer or crave chocolate. Growing up, I would rather have a savory snack than give myself a sugar rush. There was one sweet spoonful that sent me swooning, ice cream. But as my love for tea grew, the chilled scoop wasn't always the best companion to a hot cup.
A few months ago I stumbled on a very special petite treat, a macaron. It was love at first delicate bite. Whenever I'm craving a nibble, my Miss Macaron Mode guides me to the nearest bakery for a sweet fix and a steeped sip.
Although during a recent trip to NYC, my macaron moment was carefully planned as I followed my GPS to bisous ciao.
As soon as I stepped into the sweet shop, the glass case of jeweled sweets seemed to lure me over with its beautiful rainbow glow. Telling myself I would be back again soon, I restrained and ordered the two flavors that made my heart sing, Lavender & Honey and Jasmine & Green Tea. Each fragrant bite sent me on a floral journey as the petal parade marched about on my taste buds. Delicate and enchanting, I savored the macarons until I was only left with an empty wrapper and a few photos.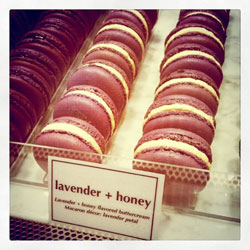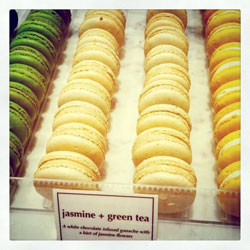 Leaving mango & coconut and salted caramel for the next visit, I skipped out of the sweet shop in search of a refreshing sip of tea. Many thanks to biscous ciao for letting my senses slip into miss macaron mode, even for a moment.
bisous ciao – 101 Stanton Street, New York City, 10002 – Closed Monday
Alexis Siemons is a freelance writer and tea consultant living in Philadelphia. As a tea enthusiast, she writes about her steeped adventures with tea on her website <teaspoons & petals, and teaches a series of culinary tea classes. Her recipes and stories have been published in Anthology Magazine, Grid Magazine, Philadelphia Magazine, Kinfolk Magazine, Remedy Quarterly and Design*Sponge.