- A Pleasant Surprise
Having almost given up on the Italian cucina here in Los Angeles, I was very pleased to enjoy the offerings of this ristorante. It was a whim that brought me there and also an offer from Blackboard Eats. After all Pane e Vino has been around for the past 20 years, no small accomplishment in a metropolis of shifting loyalties and chefs' inabilities to produce and present authentic cuisine. Not their fault really, for if a restaurant wants to stay in business in this city, then they have to cater to many of their patrons uneducated knowledge of what real Italian food is all about and offer Americanized versions.
So back to why I rarely venture out to eat in restaurants, be they Italian, French, English or Mexican, cuisine that can be so exciting and different and a pleasure. I am a purist and like to eat food as it would be prepared in the countries of origin using as much local produce as possible, and not drowning everything in sauces. I found out why that happens – because the ingredients/meat/chicken/fish have no taste coming from force fed animals, farmed fish and other things that I won't mention!!!
But now let me introduce you to Rod Dyer, the owner of this well-known and beloved eaterie. A charming and good looking man he be and a pleasure to talk with being worldly, educated and knowledgeable about food. He shares his joie de vivre with many patrons whether regulars or starters like myself….maybe he wanted to impress me, a restaurant writer, many of you reading this piece might think, but not so. I am not easily impressed and can read from their attitude when someone is doing such a thing. Rod is a very down-to-earth gentleman and wise enough in the ways and body language of people to know what and what not to do around them!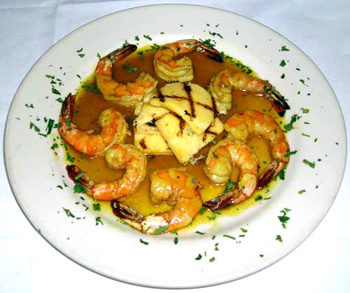 My guest for dinner was a good friend of mine who has accompanied me for many years to restaurants when I go to write. She enjoyed the first plate which was a speciality of the house, Gamberetti alla Santa Margarita – sautéed shrimp in cognac, honey, curry and scallions served with grilled polenta. A little too sweet for me but the polenta was perfect. The menu is very all encompassing from Antipasti to Pasta with some great grilled and roasted meats and fish.
Pane e Vino's chef heralds from Italy, Raffaele Fauuzzi by name. He is a young man passionate about his cooking and I must say the sauces on the pasta were quite delicious. I am sure you will recognize a lot of them but Raffaele does his magic and makes them just a little different. Specials can be seen chalked on the blackboard high above the bar. Oh yes, there is a great bar where you can imbibe cocktails or wine and just sit and watch the diners at their booths or tables enjoying their food. The open kitchen affords you the opportunity to watch your particular choice being prepared whilst the garden behind filled with lights and warming fire is a great place to be with your date for the evening.
A selection of succulent desserts round off the menu and for me a really great cup of coffee and quite happy I left but am returning again, actually tonight for another enjoyable evening.
Pane e Vino
8265 Beverly Boulevard
Los Angeles, CA 90048-4515
323.651-4600