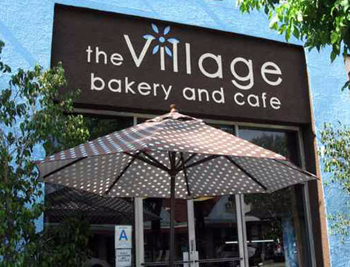 In many places in the world a bakery is often the nexus of a neighborhood. A place where the locals meet to buy baked goods and bread. Bread, the so-called 'staff of life,' is inexpensive nourishment to many people. Slowly but surely The Village Bakery and Cafe has become the nexus of our Atwater Village neighborhood. Much like their sisters in Europe, it has a walk up counter with a shelf of various types of bread behind. When I go in and see the stacks of freshly baked baguettes it feels a bit like it did when I bought the daily loaf while living in France. The difference here is you can also order coffee, a house-made pastry, breakfast or lunch, then sit and WiFi it up for as long as you want. Since it's located very close to the horse stables and riding schools along the Los Angeles River, I've seen more than a patron or two wearing English riding boots and jodphurs as well as the occasional cowboy boots. A bit of local neighborhood color.

Owner Barbara Monderine had a successful career in the music business before becoming a baker and founding co-owner of Auntie Em's Kitchen in Eagle Rock. From there she left to buy the Villa Rosa Italian Bakery, a wholesale bakery located in Arcadia, California. At Villa Rosa she perfected a line of Italian cookies and pastries including an old Sicilian cannoli shell recipe that she inherited from the previous Villa Rosa owners. She now sells the cannoli shells wholesale along with other baked goods from The Village Bakery and Cafe.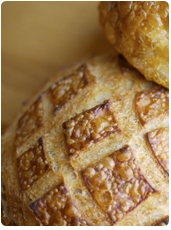 The Village Bakery and Cafe prides itself on selling artisanal breads baked daily, as well as pastries, pies and other desserts made from all natural ingredients. The menu items are made using fresh, farmers' market fruits and vegetables. One of my favorite dishes is the individual chicken pot pies. When I see them in the case I buy several to take home and freeze. Voila, a simple meal after thirty minutes in the oven. I often go to grab coffee and a sweet, for brunch or a quick lunch, or to buy a loaf of the amazing bread.

It seems I am not the only person to favor The Village Bakery and Cafe; while reading up to write this post I noticed on the bakery's Facebook page this comment: 'The Grey's Anatomy writing staff LOVES The Village!' I'm going to have to take a closer look at all those people staring at computer screens next time I go in. I didn't know the place had gone Hollywood.


The Village Bakery and Cafe, 3119 Los Feliz Blvd., Los Angeles, CA, 90039, 323-662-8600
Charles G. Thompson is a Los Angeles-based freelance food writer, whose reviews and stories can be found at his blog 100 Miles, an exploration of local sustainibility.