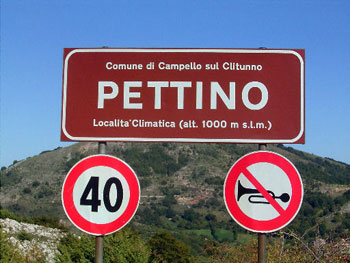 I ate a perfect dish the other day and I was lucky enough to be with friends who were able to document the whole experience.
Trista and Cappy have visited us before in Umbria and they are on the A-list, as far as we're concerned. They're the easiest, breeziest houseguests in the business. One day, we were noodling in the fridge, trying to concoct a lunch out of various leftovers – very high-level leftovers, I may say – when Jill came up with an idea.
"Have we ever taken you guys to Pettino?" So much for leftovers. Pettino is a tiny village about ten miles (and two thousand feet of altitude) from our house. We jumped in the car and slowly made our way up the twisty hill. At around 800 meters above sea level, we started to see the striped poles on the side of the road that are used in the winter to measure the snowfall. We still had 300 meters more to climb. Pettino boasts a population of 74 inhabitants and many more sheep. The only commercial building that I know of is the small inn that houses the Trattoria Pettino. This was our lunch destination.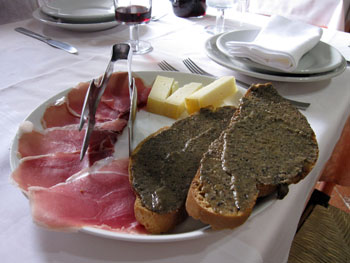 Giovanni, host, owner and paterfamilias, recommended we choose a table next to the window so that we had a full view of the mountain peaks. He brought us water and wine and then asked if we'd like the antipasto – bruschetta with truffle paste, house-made prosciutto, pecorino cheese and a frittata tartuffo – truffle omelet. Giovanni forages the mountains daily with his truffle dog and often comes back with his pockets filled with treasures.
Then he recited the two pasta choices, which were fresh-made tagliatelle with either a meat ragu or with truffles – but I had another thought.
Knowing that porcini mushrooms were beginning to show up in the area, I asked if he had found any yet. He thought for a moment – probably because he was saving them for himself – and then said he had to check in the kitchen.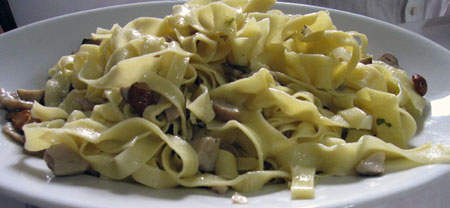 He came back and told me that he had only a few porcini but that he could mix them with some galletti mushrooms and serve them with the tagliatelle. Galletti is the Italian name for chanterelles. I said that sounded perfect.
Well – perfect it was. I have never eaten a better pasta dish. And the secret – as it so often is in Italy – is the pasta itself. Of course the newly foraged mushrooms were wonderful, but the ribbons of newly-made tagliatelle elevated the dish to heaven.
Michael Tucker is an actor and author whose third book is the recently published Family Meals: Coming Together to Care for an Aging Parent
. You can read more about his food adventures on his blog Notes from a Culinary Wasteland.