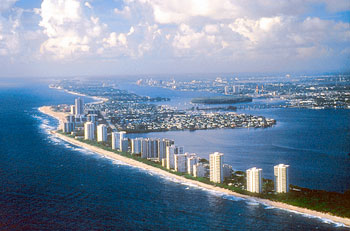 Our friend, Shiny Sheet Society Editor, Shannon Donnelly, can masticate on purple prose as well as any one I know: we are naught but a chew toy impaled on the incisors of the Cosmic Hellhound of Wall Street (from a "society" editor, no less). She was catching our attention to suggest that bad times should equal better manners – and why not; we can never over-spend on Grace. Course in this case Grace is the "slightly-hung-over" Doyenne of the Etiquette of Denial. From her delicious SOCIAL GRACE'S GUIDE TO GETTING THROUGH ALL THIS, comes Rule Number One which forbids the use of the word "new" unless it is followed by either the (interchangeable) "grandchild" or "shelter dog." And, forget any conversation that touches on "bling" or "leveraged buyout." That will be a challenge to most Palm Beachers, but not to us as we now "have permission" to cross Worth Lagoon at will and treat the whole experience as just one of life's many broadening experiences. Crossing Southern Bridge leads to West Palm Beach – an exotic land to be sure.

West Palm actually has (gasp) sexy, hot young people that mingle at sexy hot spots like Bradley's, Grease, or Rocco's Tacos & Tequila Bar. (I plan to write about Grease and Rocco's as soon as I take the time to Spa myself to youthful, sexy and hot – well, at least in Bill's eyes).



West Palm also has – like all of South Florida – great Cuban Restaurants! But, when it comes to Cuban food I find myself heading down a yellow brick road. I have no sense of seasoning, how flavors combine or what to order. I am clueless – a Cuban food ninny, but a smart ninny! Bill and I are going to Havana, the best authentic Cuban restaurant in Palm Beach County with an aficionado – Grace herself – Shannon Donnelly, who loves this opened-24hrs-a-day storefront kitchen.

Driving down Dixie Hwy to Havana has its own pleasures with its old timey barber shops, bridal boutiques, and antique emporiums, but soon enough a brightly lit corner walk-up food counter catches our eye. Not only is Havana opened 24hrs a day, one can get anything on the menu – even at 3AM. An old man who can miraculously wave his hands in all directions at once, who is yelling at us hysterically in Spanish, and who will send us careening around in circles in the restaurant parking lot before finally directing us to an unused parking space, welcomes us. That was entertaining.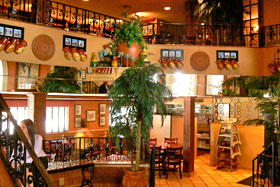 Behind the simple storefront façade is a two-story dining room filled with customers. We were there at 6:30 on a Saturday night thinking we would beat the crowd, but apparently ever since the restaurant was on the food channel it has been packed. The hostess was an adorable sparkly eyed, shiny face young woman who graciously seated us. An equally sparkly eyed, shiny face young man was immediately by our side ready to take our order for an instant gratification fix: a pitcher of utterly mellow Sangria and a Tamal Cubano, a fluffy steamed cornmeal tamale laced with seasoned pork wrapped in a corn husk and toped with sautéed onions. Quite pleasant, but too mild for our Jalapeno sensibilities! Tabasco was on the table. Ah, Perfect.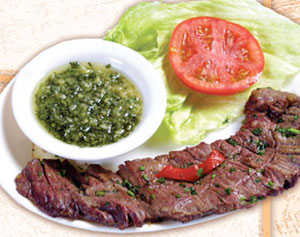 Shannon, our "regular" ordered her "regular" – Bistec Especial Havana, a grilled skirt steak churrasco which had been marinated in chimichurri sauce made of garlic, vinegar, lime and olive oil. Very tasty, but it might take me some time to get used to vinegar on steak. As a side, she had the very yummy Tostones con Mojo, green plantains.

I ordered the highly recommended Cordero en Salsa de Vino Rojo, Lamb shank cooked slowly in red wine sauce with herbs. It was mild and quite good. My Ordenes Individuales was Arroz Moro (rice and black beans) and Yuca con Mojo with its distinctive garlic and cumin laced flavor.

Bill had what I also wanted Lechon Asado con Cebolla (Tambien con Salsa BBQ) marinated lean baked roast pork, sliced and grilled with onion and a touch of Mojo or BBQ sauce. As Bill said, "Pulled Pork. What's not to like?"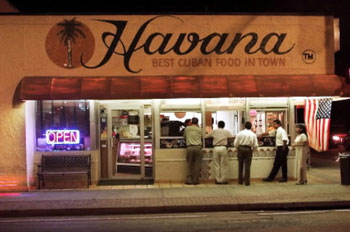 While we were waiting for dinner to arrive a waiter passed our table carrying what can only be described as a Deep-Fried Ice Sculpture of a gapping mouth beady-eyed fish jumping out of the water. When it was placed in front of the woman sitting next to us I thought it was going to bite the buttons off her blouse. Damn, I thought, why did I not order that: Pargo Entero Frito O Asado (Tambien Picante) – Whole snapper seasoned with herbs fried and topped with raw onions. (As our diner was leaving, we blocked her exit until she told us how it was. Delicious!)

Also on the menu, which will guarantee a return, visit: Batidos de Frutas Naturales, (Milk Shakes made from a choice of Mamey, Mango, Papaya, Guanabana and Banana), Flan de Caramelo, and an array of fabulous sounding Cuban Sandwiches – the mainstay of the walk-up counter.

So Nancy has finally gotten her Mojo!

CUBAN MOJO

This traditional recipe calls for "sour oranges" which can be matched, more or less, by mixing equal amounts of orange and limejuice.

6 cloves minced garlic
2/3 c sour orange juice or lime juice
1/3 c olive oil
½ tsp ground cumin
season to taste

Combine ingredients and stir. Some recipes call for
heating the oil and garlic in a deep saucepan and cooking over medium heat until aromatic but not browned. Then add the sour orange juice, and spices and carefully bring to a boil. Cool


CHIMICHURRI STEAK SAUCE

(this sauce and marinade is like a pesto sauce but used on grilled steak, but also with fish and chicken)

½ c chopped fresh oregano (or cilantro)
8 cloves garlic
¼ c vinegar
2/3 c olive oil
½ c chopped onion
juice of 1 lime
red pepper flakes (to taste)

Put all the ingredients in a blender and pulse until you have a thick mixture. Season to taste.