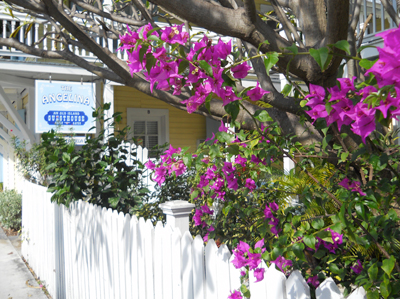 Outside, the roosters crow. I look at the time display on my cell phone within reach. 4:30. A.M. As hard as I try, I cannot fall back to sleep. The continuous crying sounds of the roosters are foreign to me and grate on my nerves.
Finally, I pull myself out of bed, throw on some workout clothes and softly pad down the stairs outside my room.
I sit in the dark, the only light coming from the screen of my laptop computer. As my fingers move quickly across the keys, the light of day appears, surprising me with its sudden takeover of the night.
The sound of cars in the street join the constant noise of roosters calling to one another. My nose picks up the familiar aroma of yeast dough wafting from the kitchen.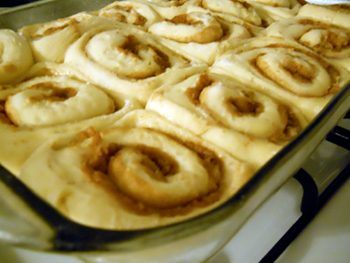 Early each morning, an employee of the Angelina Guesthouse, where I'm staying in Key West, Florida, opens the kitchen in the early morning hours of darkness, while most of the guests are still deep in their slumber. On this morning, Nodira, a beautiful woman originally from Uzbekictan, pulls two batches of plump unbaked cinnamon rolls from the refrigerator and slides them into the oven.
While the comforting fragrance of baking bread begins to surround us, Nodira and I visit beside the pool outside in the new light of day. A teacher in her home country, the young woman with black hair and brown eyes the size of whole walnuts, explains that she has been in America for six years. Her first stop was Ohio. With a huge appetite for learning and an urgent desire to master the English language, she attended class after class.
For the past three years she has lived in Key West. Two years ago, she began working at the Angelina Guesthouse and is most often the keeper of the famous cinnamon rolls served hot and fresh to guests each morning.
For Angelina Guesthouse owner, Kevin, cinnamon rolls were a weekend breakfast tradition when he was growing up. His mother was a home economics teacher and taught Kevin to make cinnamon rolls when he was 10 years old. He's been making them ever since.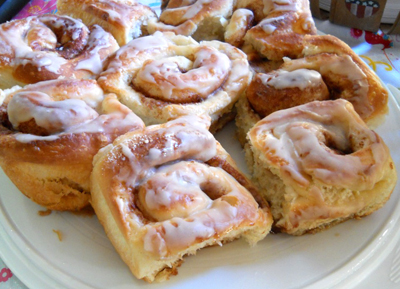 When Kevin and his wife moved to Key West from Kentucky and opened the Angelina Guesthouse, Kevin continued the weekend cinnamon roll tradition. Guests, with an insatiable appetite for the homemade sweet breakfast treat, asked for more. Just on weekends wasn't enough. Kevin relented, and now the voluptuous spirals of cinnamon and sweet yeast dough, still prepared following his mother's recipe, are served each morning, often by Nodira.
As I visited with Nodira, the piercing crow of free-roaming street roosters vanished. The graceful sway of palm trees fanned our conversation, turning small glowing embers of casual words into a burst of warm conversation.
Soon the cinnamon rolls were ready to come from the oven and guests began to gather, following their nose to the famous breakfast treat.
Nodira went back to work. As my teeth sunk into a soft and very plump, warm cinnamon and sugar-spiked roll, I wondered what tomorrow's dawn would bring.
Angelina Guesthouse Cinnamon Rolls
Prepare in bread machine.
Stir together in bottom of bread machine:
1 cup warm milk
2 tablespoons sugar
2 teaspoons yeast
Let rest for 15 minutes, then add:
2 teaspoons salt
1 tablespoon vegetable or canola oil
3 3/4 cups all-purpose flour
2 eggs
Roll out dough into a rectangle approximately 18 inches x 12 inches.
Cover with:
1/2 cup (1 stick) butter, melted
Cinnamon and sugar mixture made of 2 cups sugar and 2 teaspoons cinnamon. You won't need the full amount of this mixture.
Roll up dough and cut into 15 slices.
Place in greased 9×13-inch cake pan. Allow to rise or refrigerate and allow to rise in morning. Bake in preheated 425-degree oven for 20 minutes, until golden brown and baked through.
Remove from oven and ice with glaze made of:
2 tablespoons melted butter
1 teaspoon pure vanilla extract
1 1/2 cups powdered sugar
Mix ingredients and add milk to thin. Makes 15 cinnamon rolls.
The dough can be mixed the traditional way without the use of a bread machine.
Sue Doeden is a popular cooking instructor, food writer and integrative nutrition health coach. She is the host of Good Food, Good Life 365 on Lakeland Public Television. Her own hives full of hardworking bees and her love of honey led to the creation of her recently published cookbook, Homemade with Honey.