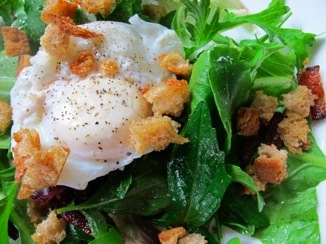 So folks are embracing "Meatless Mondays" – from L.A. Mayor Antonio Villaraigosa (maybe he's also embracing meatless policies) to celebrity chef Mario Battali (who might consider some meal-less mondays – I know, I know, who am I to talk), but what about "Meatless Mostdays?" That's what's getting embraced around my house,
Chalk it up to my trying to "live off our land" or to me being too tired to go to the market, we've been eating eggs, not meat, for dinner. To make the eggs-seem-special-for-dinner, I have been serving them poached. Poached eggs are fancier than fried eggs – the delicate cooking results in tender whites and creamy, pudding-like yolks. I've served poached eggs with salad, croutons and bacon, poached eggs on root vegetable hash, poached eggs and Serrano jamon on toast with grilled green onion, arugula and Romesco sauce, poached eggs on whole wheat pasta with whole wheat bread crumbs and Swiss chard. (Yes, I know – there is bacon and Spanish ham in these dishes--so maybe Mostly Meatless Mostdays? – Is that better?)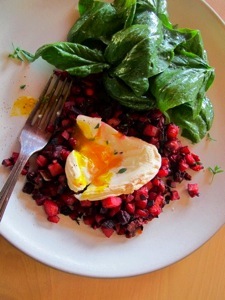 Poached eggs are pretty simple, but they can also be pretty easy to mess up. If the water is simmering too fast or too slow, you can lose your white. Using super-fresh eggs makes it easier-- which of course is not a problem for me as I've got those chickens just outside my door. When you make poached eggs, make sure that the water is just gently bubbling when you slip in the freshest eggs you can find, and don't cook more than four at a time. If you need to poach a lot of eggs, you can always transfer the just cooked eggs to a pan of ice water and keep them up to one hour, then gently reheat them (like 30 seconds) in  simmering water.
Bring a medium-sized skillet of water to simmer. Add 1 tablespoon vinegar. Working one at a time, crack an egg into a small bowl and gently slide into simmering water in skillet. Poach eggs, gently pushing simmering water over very tops of eggs until the whites are cooked through but the yolks are not set, about 3 minutes. Using a slotted spoon, remove egg from the water and drain on clean, damp towel.
Jeanne Kelley is an established food writer, recipe developer and food stylist based in Los Angeles, California. Integrating locally grown produce with globally influenced flavors, Kelley's approach to cooking is both simple, festive and fresh. Her recipes can be found in her latest book is Blue Eggs and Yellow Tomatoes: Recipes from a Modern Kitchen Garden
and on her blog Eat Fresh.