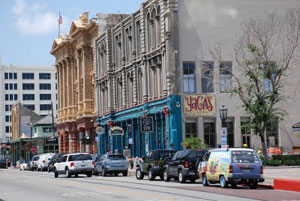 Growing up in Galveston, Texas with parents who love good food gave me a million food memories. Chief among them are shrimp po-boys, fried oysters, endless Tex Mex and one little particular sandwich I'd always insist on grabbing from the Old Strand Emporium. Without giving too much of a history lesson about this "interesting" island off the gulf coast, Galveston was home to a booming port and bustling city during the end of the 19th century. While many things have come and gone, the Emporium is still there. Think high ceilings, Victorian-style general store with tons of candy. You can see why it was one of my favorite places to visit as a kid, but it wasn't for the sweets or soda. It was for one particular sandwich that has been stuck in my head for over 30 years.
This sandwich-that-I-pine-for is like no other. Wrapped in foil and meant as a grab-and-go selection, it was a savory, salty spread layered between a fresh baguette. It was sweet, a bit hot, with a salami-esque and relish-style flavor that begged to be enjoyed with a cold Dr. Pepper (or Mr. Pibb, even better!) My mouth waters just thinking of it. I've asked just about every Galvestonian I know,
including family members, but the response is usually the same: "Oh, I remember those sandwiches! Sure were good. I have no idea what it was."
Of course that's never the answer you want to hear, so after the trail went cold I decided I was going to have to pick up the phone and call.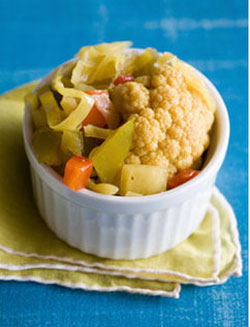 "I know this sounds crazy, but my parents would buy a particular sandwich from the Emporium when I was a kid. This was 30 years ago and I have no idea if you still make it," I asked.
"Oh, sure, of course. We still make it. And it's a secret recipe. About the only thing I can tell you is that it's made with Chow Chow. And that's it." replied the voice on the other end.
My initial reaction was frustration, but then it hit me: she said Chow Chow! Knowing this I could rely on memory to get close enough to replicate it!
And then it hit me again. What the hell is Chow Chow?
I had to stop for a moment and run through the list of marinades dressings, pickles and relishes that litter my brain. It wasn't easy, but after making a few funny faces and scratching my head the secret
ingredient came up and I began to remember it as a Southern thing. Some sort of vegetable and pickle relish that can be made with anything on hand, although cabbage and onions are key. It's a familiar taste and just slightly different. This would explain the sweet and tangy flavor of the sandwich I grew up loving and I was going to do my best to make it again. From memory.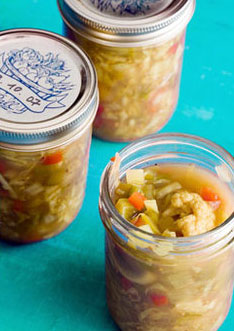 The Chow Chow mission started and I found a very basic recipe for it but wouldn't you know little old impatient me would have to wait a month before tasting it. Because it's a vegetable relish it takes 4 weeks to pickle, not to mention the week it took me to track down a batch of green tomatoes. But waiting did the trick, and my first bite of my homemade chow chow relish made me wonder why it wasn't a regular ingredient in my cupboard or fridge. Green tomatoes, green cabbage, red bell peppers. onions, spices, sugar and vinegar create a luscious, tangy, crunchy slaw that is neither too
sweet nor too salty. It's just perfect and it stays crunchy, and the large dice of vegetables means it's not mushy and pretty damn hearty. I ate half a jar just standing there before I could even start the
sandwich.
I love the moments of discovery you can find in the kitchen. What originally started out as an attempt to recreate a sandwich led me to what I might consider one of the best condiments I've ever tasted. Over the course of a few days I discovered that chow chow is phenomenal on hamburgers and Adam found out how delicious it is on a hot dog. I can't wait to serve it alongside barbecued meats like ribs and chicken. But it doesn't have to be all meat – it's even great on top of plain white rice. I'm sad to report that the jars of my new favorite relish are almost gone. Time to track down more green tomatoes!
Chow Chow Relish
I've read that Chow Chow was perfect way to save random vegetables from a farmer's harvest as it can be made with a mixture of almost anything. This recipe features unripe green tomatoes but a quick google search will yield a million variations. I recommend a rather good-sized chop here as you can always go smaller once your Chow Chow is ready. You can't go backwards. And my next batch may include a few chili pepper flakes for added heat.
This recipe for Chow Chow Relish makes 4 pints.
Ingredients
4 cups chopped cabbage
3 cups chopped cauliflower
2 cups chopped green tomatoes
2 cups chopped yellow onion
1 cup chopped green bell peppers
1 cup chopped red bell peppers
2 1/2 cups white vinegar
1 1/2 cup sugar
3 tablespoons salt
2 teaspoons dry mustard
1 tablespoon ground turmeric
1/2 teaspoon ground ginger
1 tablespoon mustard seeds
2 teaspoons celery seeds
Directions
1. Combine the chopped cabbage, cauliflower, bell peppers, onions and green tomatoes in a large bowl. Sprinkle with salt and let the mixture stand 4 to 6 hours in a cool place.
 
2. Drain the vegetable mixture well. Combine the vinegar, sugar, mustard, turmeric, ginger, celery seeds and the mustard seeds in a large saucepan. Simmer 10 minutes. Add vegetable mixture and simmer 10 minutes longer. Bring to boil.
 
3. Pack, boiling hot, into hot sterilized jars, leaving 1/4-inch head space. Adjust lids and process 10 minutes in boiling water bath. Let rest in a cool, dark place for 4 weeks before opening.
Recipe adapted from Pat in Phoenix…thank you!
-- Also published on MattBites.com