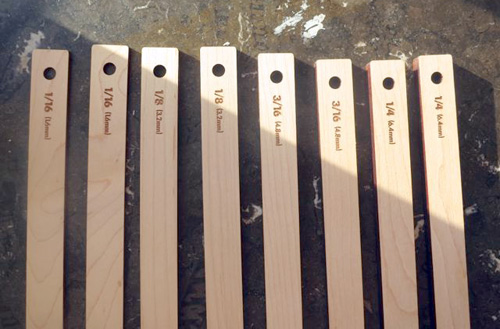 I recently received a package in the mail at KCRW. Opening it up revealed a thin, long package of wood strips of differing thickness held together with a loop of chain called Pastry Wands. I was immediately intrigued.
I tend to be a chaotic cook who forgoes attempts at perfection for simply making food that tastes really good, so often my dough is uneven when I roll it out. That never worries me.
If it did I would have bought one of the few items marketed to bakers who want perfectly even crusts or cookies. There are adjustable rolling pins, thick rubber bands to attach to your pin, even sunken boards with height adjustable edges.
They've all seemed a bit gadget driven for me. But the Pastry Wands combine usefulness with beauty.
A well designed package of simple strips with measurements burned into the wood edge. They have a distinctly tactile appeal. So I took them home and put them to use. A great holiday gift idea for your favorite baker.