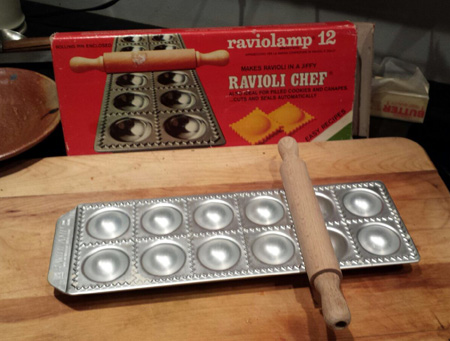 "I was thinking… when we get back, we could make homemade ravioli", Francis nodded to the pasta roller on the counter and pulled a box from his kitchen cupboard. It was a ravioli press. A Raviolamp 12, to be exact, in a slightly worn box. I was breathless. This was ringing all the right bells – crafty, foodie, flea market finds. Francis and I have cooked a few times together, very successfully, in fact, but I still get performance anxiety. Present me with a brand new $300 pasta machine, with all the bells and whistles, and I know what perfection is expected of me. But a used ravioli press with a piece of packing tape holding the box together? Well now, you just wanna play. THAT, I can do.
The day before, we had hiked through the woods near a cabin we rented in Rhododendron, Oregon, and had seen people gathering mushrooms. They weren't tourists, they were definitely pro-shroomers. I say that because they were small and bent, wearing waterproof boots and ponchos with bags to contain their findings. They stayed targeted on their tasks, not looking up to say hi to wanderers. They were like fungus gnomes, trekking through the misty woods with determination and focus. That's not judgment you hear in my voice, that's jealousy and admiration. Their collection sacks were full. They were magical mushroom hobbits and I was in awe.
We decided we would join in the hunt, though off their turf, a little further north into Washington State. It was raining lightly when we got there, but it's always raining lightly there. It's the Pacific Northwest, that's the deal. I thought the drizzle made the forest look that much more magical. The smell of loamy ground, wet wood, and verdant leaves overwhelmed my blackened city lungs. Francis found a few chanterelles a couple yards into the woods. This would be easy, I thought, soon we'll be sauteeing the pounds of mushrooms we find and rolling out pasta squares to fill.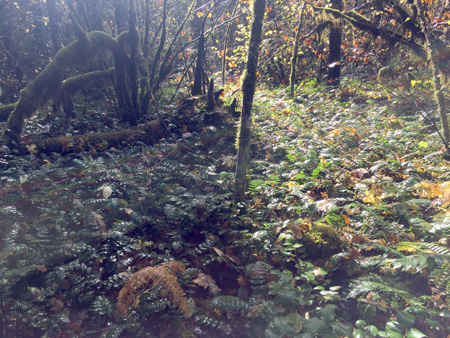 I stood back and tried to let my eyes acclimate. I've heard stories from friends who have picked olives or wild asparagus, the treasures that seems invisible until your eyes calibrate to them. Then, all you can see is a field full of your swag — the green stalks of asparagus rising up everywhere when a moment ago they were imperceptible. I waited. And then I waited some more. My eyes would not calibrate properly. I saw no mushrooms. We walked further.
"Is this one?" I asked Francis, who was starting to look a little forlorn.
"Nope." I knew it wasn't a chanterelle. I was just trying to be optimistic.
We hiked deeper into the woods, looking through fallen tree trunks and stumps where other fungus was flourishing. "Here's some!" I yelled. Two more large chanterelles went into our collection bag with the two that Francis had found when we first got there. Now I was hot on the trail. I would fill that bag, I would. My posture became bent like the pros the day before. My eyes were slits, searching every nook and cranny of that fucking forest. The rain started to fall a little harder.
Now, Francis and I have been together for about 8 months, but we don't live in the same city. Every time we do things together, we learn more about who we are, alone and together. This was one of those classic relationship tests of who is going to give up first. I was pretty determined not to quit – because I live in New York and never ever ever get to do cool stuff like this. I didn't really care how many mushrooms we went home with. I liked the forest and the hunting and the company. Win/ win/ win.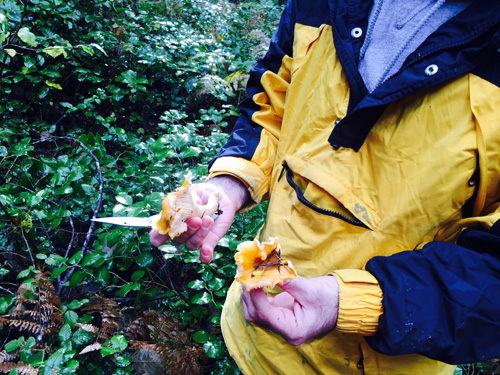 But then the rain came down a bit harder. I searched frantically. The sky suddenly opened, and Francis and I simultaneously stood up, looked at each other, and started laughing. It was just too funny. We ran for the car as the storm soaked us to the bone.
Four mushrooms.
Four.
We laughed all the way back to his local supermarket, where we hunted, more successfully, for mushrooms. Actually, that's a bit of an overstatement. We were too early for the chanterelle hunt this year. The gnomes had been collecting other kinds of mushrooms and we're not savvy enough to know what would and wouldn't have made our ravioli poisonous. When we got to the store, they had fewer chanterelles than we did, so we bought some portobellos, shiitake, and oyster mushrooms. Those, along with some butter, shallots, thyme, sage, white wine, fresh ricotta, and a wedge of parm and we were set.
Francis rolled out the pasta and I made the filling. The Raviolamp was a little warped in the middle, so many of the ravioli didn't get sealed quite as tightly as we were hoping, but it didn't matter. They were so delicious. They warmed and soothed us after our wet day in the forest together. We went back for seconds and then thirds.
I was too busy eating to get pics of the finished ravioli in sauce, so I went to the store yesterday to recreate the filling. I was unable to procure any chanterelles (Citarella said they had them, but you'll see that these are most definitely NOT chanterelles – also, $9.99 for a ¼ pound! Get me back to Portland!). I decided to play with what I could find – this time making the ricotta from scratch – and, believe it or not, it was delicious.
You can experiment with whatever mushrooms you find, though freshly picked ones are available in many stores right now. You can use this recipe for filling homemade ravioli, and float the finished product in a bit of butter, white wine, and fresh sage leaves. Or use the filling recipe as your pasta sauce, stirring 1/4 cup of the starchy pasta water into the sauce before you drain your pasta. You can't go wrong!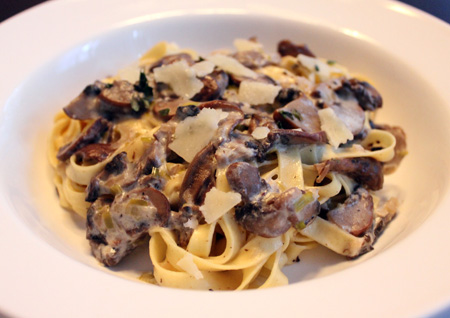 Fettuccine with Wild Mushroom and Fresh Ricotta
(Makes enough for about 36 ravioli or pasta sauce for two healthy portions)
Fresh Ricotta:
1 cup whole milk
1/2 cup heavy cream
1/2 teaspoon salt
1 tablespoon vinegar
In a small saucepan, heat the milk, the cream, and the salt until it starts to boil. Take off heat and stir in the vinegar. Let sit 5 minutes. Pour into a sieve lined bowl, covered with cheesecloth and let sit, for at least 1 hour – but the longer the better.
Wild Mushroom Sauce:
1 tablespoon butter
1 tablespoon olive oil
1 small shallot
Salt to taste
1 garlic clove, minced
1/2 pound assorted wild mushrooms (chanterelles, porcini, cremini, shiitake, oyster, etc.), sliced
1 sage leaf, chopped
1 tablespoon fresh thyme, chopped
1/2 cup dry white wine
Freshly ground pepper
Ricotta from above
Parmesan
In a large saucepan, heat the butter and the oil until the foam subsides. Stir the shallots in with a dash of salt and cook over medium heat until the shallots are softened and starting to brown, about 3 minutes. Add the garlic and cook for 30 seconds.
Add the mushrooms, the sage, the thyme, and another pinch of salt and sweat over medium-low heat until the mushrooms soften and release their juices – about 7 minutes.
Add the wine, turn the heat up to medium high and cook for another 5 minutes, stirring gently. Add the fresh ricotta.
Sprinkle with freshly grated parmesan, salt and pepper to taste.
Alison Wonderland Tucker is a chef and caterer who lives and works in New York City. She writes about her love of food and life as a chef on her blog A Wonderland of Words.