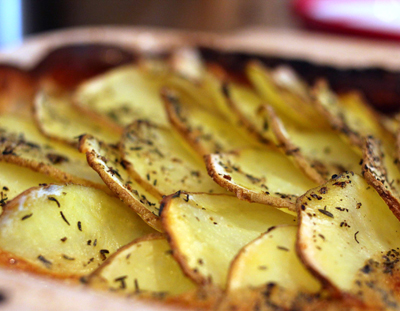 It feels like Week 19 of the heat wave. Seriously, ridiculous. It's too hot to stay in and cook. Baking seems ludicrous. Even making a pot of chili in the afternoon (to serve later with grilled hot dogs or hamburgers) feels like too much – which reminded me of the Cuisinart. It sits on the counter every day and we rarely use it. Why did I forget about the Cuisinart?
I love the Cuisinart. I particularly love the slicer. And having remembered it, I'm now on a cooking and no-cooking cooking binge, if you know what I mean. Last night I threw little red potatoes into the Cuisinart (using the slicer blade), poured them into a porcelain casserole dish, drizzled them (understatement) with grape seed oil, salt, pepper, and a little bit of fresh rosemary.
Before you do this pre-heat the oven to 350F so the potatoes don't turn a funny color and you can pop them right into the oven a moment after you pop them into the casserole pan. Bake for 35 to 40 minutes until they're golden brown. Tell your husband not to toss them while they're in the oven. They crisp up better if you just leave them alone. Even better, tell him to go outside and fire up the bbq and put two steaks on or a couple of pieces of salmon, depending on his mood. Throw a salad together and Instant Dinner.
And then I remembered Gazpacho. Gazpacho is a wondrous thing. It's not quite enough for dinner on its own but tomatoes are still in season. Splurge and use heirlooms.
Serve with warm sour dough or, if you're feeling ambitious, garlic bread.
Here is the original Cuisinart Gazpacho Recipe. It's still pretty divine.
Now, I just wish I had a copy of the original Cuisinart Cookbook!
Ingredients:
2 small garlic cloves, peeled
1 small jalapeno pepper*
8 scallions
2 celery stalks
1 medium bell pepper
4 tomatoes
4 cups tomato or V-8 juice
2 medium cucumbers
4 tablespoons lemon juice
2 teaspoons salt
1/2 teaspoon black pepper
Instructions:
Halve jalapeno pepper and remove seeds. Trim scallions and celery and cut into 1-inch pieces. Quarter and seed bell pepper and tomatoes. Peel cucumber and cut in half lengthwise. Remove seeds and cut to fit feed tube vertically.
Use metal blade to process garlic and jalapeno pepper until finely chopped. Add scallion, celery and bell pepper. Pulse/chop to medium chop. Put in large mixing bowl.
Pulse/chop 1/2 the tomatoes until coarsely chopped. Add to mixing bowl.
Purée remaining tomatoes until smooth, about 1 minute. With machine running, pour in 1/2 cup of Tabasco® tomato juice. Add to mixing bowl with remaining tomato juice and stir.
Insert slicing disc, stand cucumber pieces upright in feed tube and slice, using light pressure. Add to mixing bowl with remaining ingredients and stir to combine.
Cover and chill before serving.
Makes 9 cups.