Picnic Table with a View
by Lisa Dinsmore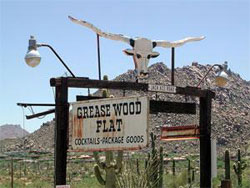 For the past decade, my husband and I seem to find ourselves in Scottsdale Arizona every Spring. Most years it's to celebrate the arrival of another baseball season by talking in as many pre-season games and hotdogs as we can pack in in a week. Others, it's to celebrate Mardi Gras with our Louisiana-born-and-bred friends who carry on the traditions of their home state despite the desert locale of their adopted home.
We made the trip, just for the weekend (too early for baseball), to take part in their Krewe of Helios bash. You would too if you had ever had their gumbo or red beans and rice. They throw a parade on their block where you get to catch as many beads as you can before stuffing your face. (Nudity is strictly discouraged. As our bodies attest, we are not in college anymore.) We had some time to kill before the reverie began and needed a place for a quick drink and a nibble. Since it was a gloriously sunny day, if it had a view of Pikes Peak, even better.
We wanted a glass of wine and antipasti on the Sassi patio, but they're only open for dinner. (Bummer.) When I suggested Greasewood Flat, which is right down the street and a complete 180-degree stylistic turn, my husband was a bit wary. We'd driven by the sign – which looked a little too "cowboy" to us city slickers – a few hundred times over the years and I had always wanted to go.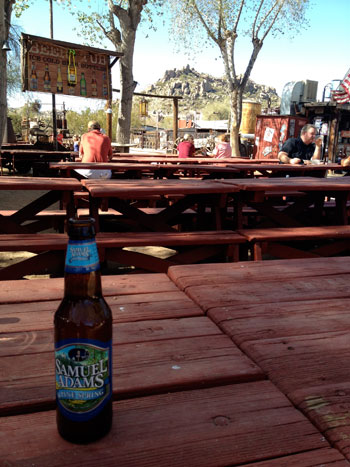 It had a good reputation with our friends, so despite it's dusty, ramshackle entry (you can't see the bar from the road), we gave it a chance. What we discovered is a no-fuss, local joint where the beers are cold, the burgers big and hanging out is encouraged.
This location was originally a stagecoach stop in between downtown Phoenix, which is about 35 miles south of the Reata Pass where Greasewood Flat is located, and Prescott a town about 100 miles northwest. It's current set-up looks like the backlot of an old western town with a jail and various log cabin structures surrounding a central area filled with picnic tables.
You feel like you've stepped back in time, with the exception of the leather-clad bikers, ever-present cell phones and the neon signs and brightly-colored posters advertising their beer and Happy Hour specials. While not directly under the Peak, you can still see it from your table, which brings a nice touch of nature to the experience.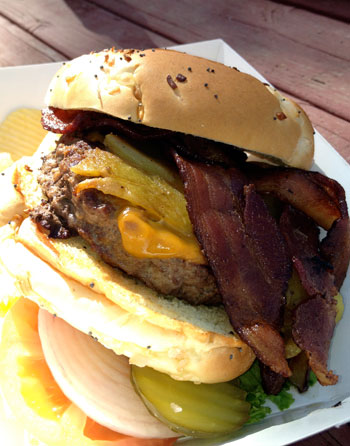 If you want to eat or drink, you've got to order inside and pick-up yourself. The bar was strictly cash-only, though the dining side took credit cards. They have an ATM on site so be forewarned they aren't going to budge on this point.
We just wanted a snack – southern delicacies awaited – to go with our ice cold brews, so we decided to split their infamous burger - which comes topped with melted cheddar, crispy bacon and a large slice of green chili. It's been a long time since I've had a burger…and I can't remember the last one that tasted this good. Cooked to perfection, it made me remember why people love the hamburger so much. And made me wish I had ordered a whole one for myself.
One can only imagine how rowdy it gets after sundown when the live music begins and the beer prices get even cheaper, but it was the perfect place to while away a few sun-dappled hours on a lazy, spring afternoon. I can't wait for next year.
Greasewood Flat – 27375 N. Alma School Parkway, Scottsdale, AZ
Lisa Dinsmore is a writer, web programmer, movie and wine lover. She currently runs two review websites to share her passions: www.crazy4cinema.com and www.dailywinedispatch.com. She is also the Managing Editor of One for the Table.
Los Angeles


by

Pamela Felcher





As I have mentioned, I am a teacher in the LAUSD and this year the budget cuts cost me dearly. I lost the auxiliary class I have taught for the last nine years, and though this class added the...

Read more...

New York


by

Ilene Amy Berg





I recently saw a new show on the Food Network called "Food Feuds". I like it – I get it. It's a simple premise: in towns all across the country there are passionate disagreements about "the best"...

Read more...

Georgia


by

Laura Johnson





I grew up in the deep south, a small town called Hawkinsville, GA, population 3500. Probably the best thing I have ever eaten in my life is the BBQ we had on special occasions on our farm. I know,...

Read more...

Northern California


by

Laraine Newman





I recently performed Celebrity Autobiography at the Wells Fargo Center For The Arts in Santa Rosa. I didn't know where Santa Rosa was nor did I realize that the Welles Fargo Center was a hip...

Read more...