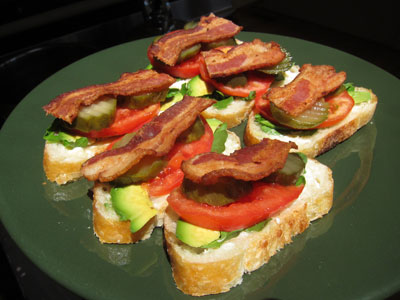 Serves 4
Time 30 minutes
Ingredients
8-24 slices of bread, lightly toasted
8-10 slices of bacon
2 ripe avocados, washed
4 ripe large tomatoes, washed, stem and blossom end removed
8 romaine leaves, ribs removed, or a handful of arugula leaves without the stems, washed, dried
8-16 slices of bread and butter pickles (optional)
Sea salt and black pepper
Mayonnaise
Directions:
Set the lightly toasted slices of bread aside to cool.
In batches, cook the bacon in a large frying pan or griddle on a medium-low flame. Turn the slices frequently for even browning, being careful to cook through all the fatty pieces. Place paper towels on a plate. When each bacon strip is cooked, lay it on the paper towel to drain.
While cooking, pour off excess grease into a coffee tin for later disposal.
Cut the cooked bacon pieces so they are the same length as the toasted bread slices.
Depending on your preference, make thin or thick slices of tomatoes and set aside.
When you are ready to assemble the sandwiches, cut the avocados in half, remove the peel and discard the pit. Since the avocado flesh will discolor once it is exposed to the air, do this last step just before serving.
Spread mayonnaise on each slice of lightly toasted bread, place avocado slices on the bread, covering the surface. Lay romaine or arugula leaves on the bacon. Add a slice of tomato, pickle slices (optional) and lastly the bacon slices. Season with sea salt and freshly ground black pepper.
Serve with an ice cold beverage, a tossed salad and fresh fruit for dessert.
Variations:
Lightly dust the avocado with cayenne for heat.
Instead of lettuce or arugula use watercress leaves for a peppery flavor.
Toss the avocado slices in a mix of 2 parts olive oil and 1 part fresh lemon juice before placing on the sandwich.
To make an open-faced melted cheese sandwich, lay thin slices of Irish or English cheddar cheese on top of the sandwich, place in a preheated, 350 degree toaster oven for 5 minutes to melt the cheese, 1 minute in a toaster oven set on broil and cook until the top of the cheese lightly browns. Serve warm.
- Recipe courtesy of David Latt