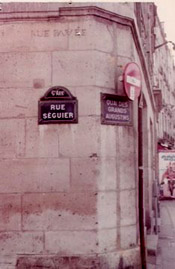 I learned to eat the year I starved in Paris.

Like so many American kids, I lived the cliché of being a poor, broke, foreign exchange student there to lap up some culture and meet some romantic French men.
All the myths came crashing down the first month. The guys were scruffy, unwashed and uninterested. The universities went on strike.
The dollar crashed against the franc, sending Paris food prices beyond the reach of U.S. students. I was 19 and living in a 12th century building on the rue Seguier and I refused to go home.

So, there were few hot meals in bistros, let alone at temples of fine-dining. Nevertheless, I was transformed into a foodie by reading the handwritten menus outside of establishments in that illegible French script.
I gawked at displays at traiteurs (take out caterers) and patisseries (pastry shops) and stalked the weekly farmers' markets where I'd sometimes score a free cabbage or some overripe berries.
My supermarket trips were limited to staples like eggs, yogurt, coffee, cheese and some toiletries. A "date" with a French guy was never dinner out but a bummed cigarette and a drink standing up at the counter in a local café. I kept a notebook, jotting down names of dishes I would learn to make some day when I could afford the ingredients.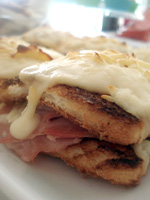 Lucky for me, when I came back to the U.S., home was Berkeley where a food revolution was in full swing. I couldn't afford Chez Panisse but I could afford to make most of the dishes I wrote down in my notebook: blanquette de veau, cassoulet, beouf bourgignon, tarte aux oignons, quiche lorraine, clafoutis, oeufs aux lait, soupe St. Germain. I still make them today.

Two things sustained me during that frugal year: 1) the poor man's version of pain chocolate (chocolate croissant); and 2) Croque Monsieur, the Paris version of grilled ham and cheese.

Some days I couldn't afford a croissant, but I could buy a fresh, still-warm, half baguette and a 3.5 oz bar of Lindt or Valrhona bittersweet chocolate.


CHEAP PAIN CHOCOLATE
1 crusty demi (half) baguette, as fresh as possible
1 half bar of bittersweet chocolate (about 25 grams or 2 oz)
(in the U.S., Hershey's semisweet will do. NEVER use milk chocolate here.)

Tear the baguette open lengthwise with your fingers, keeping one side attached so your chocolate doesn't fall out. Break up half the chocolate bar into pieces. Stuff, flat, into the bread. Eat like a sandwich. Save the rest of the chocolate for the Metro ride home.


CROQUE MONSIEUR
2 pieces of pain de mie or white sandwich bread
soft butter
1 slice of good ham
2 slices or 8 oz of grated Gruyere, Ementhaler, Raclette or Swiss cheese

Preheat an oven or use a toaster oven or a skillet with a lid.

Butter the bread on one side each. Place the ham between these buttered slices. Put the cheese on top of so it will melt and dribble over the sides. Bake the sandwich (on a heat-safe pan or plate) in a hot oven or toaster oven for 5-10 minutes until cheese is melted and is slightly brown. Or, place the sandwich in a slightly greased skillet, covered, for about 5 minutes over medium heat until cheese melts.

Eat with a knife and fork. Great with a side of green salad with beets and vinaigrette or cup of potato and leek soup.

Maria Elena Rodriguez is a writer who lives in California and has her own blog about food and travel called Madriguez.