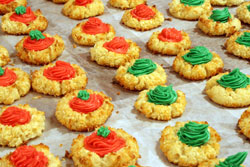 It just wouldn't be Christmas at my house without Thumbprint Cookies. This old recipe that my Czechoslovakian/ Bohemian grandmother used to make created cookies that were my dad's favorite at holiday time. My grandma passed the recipe to my mom. They'd always have centerstage on the plates of cookies my mom would assemble and give to friends during the holidays.
I remember getting home from schoool and helping my mom roll all the dough into little balls. Under her watchful eye I would try to get the balls all the same size, resulting in dainty little cookies. Now I use a #100 portion scooper to insure uniform size.
The Thumbprint Cookies continue to live on. My daughter-in-law and I quadruple this recipe on our cookie-baking day so that we each have enough to include on our own cookie plates that are delivered to friends. This year my two young granddaughters helped make the cookies, each with a portion scooper in hand. They worked intently, rolling each ball of dough in an egg-white wash and then in finely shredded coconut. I always like to roll a few of the cookies in coarsely-ground nuts rather than the coconut.