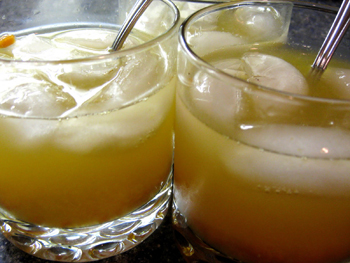 I enjoy spending hours cooking in the kitchen. Doing the prep work soothes my frazzled nerves. Watching a dish slowly come together as the various ingredients combine their flavors calms me down.

Being in the kitchen is a great escape from a contentious world. Pulling together appetizers, a salad, main dish, and a couple of desserts, gives me a lot of pleasure. Good food promotes good conversation and well-prepared dishes tell our friends that we care about them.

I like to have the meal completed before everyone arrives, but sometimes, like this New Year's Eve, I know I'll still be cooking. The best solution is a colorful cocktail that refreshes and entertains while I'm finishing dinner.

Because there are edible pieces of fruit at the bottom, including a spoon means the cocktail is a drink and an appetizer all in one.