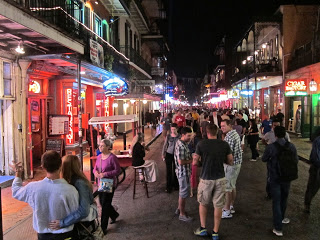 Mention New Orleans and anyone who's been says, "The food's so great. And the music. If you go, you'll love it."
With so few days in town, I asked for suggestions on Facebook and Twitter, read guide books and got recommendations from friends who are NOLA aficionados.

Certain restaurants appeared on multiple lists:

Acme Oyster House (724 Iberville Street, New Orleans 504/522-5973) in the French Quarter (for oysters although I was advised the place is so crowded, a good workaround to get in is to sit at the bar between 3:00pm-4:00pm).

Donald Link's restaurants are popular, especially Herbsaint (701 Saint Charles Avenue, New Orleans 504/524-4114) and Cochon (930 Tchoupitoulas Street, New Orleans 504/588-2123) I made it to the latter, but more about that in a minute.
Fried chicken at Willie Mae's Scotch House (2401 At. Ann Street, Seventh Ward, New Orleans, 504/822-9503). Not close to anything, tucked away in a suburb, but well worth the 10 minute cab ride or 30 minute walk from the French Quarter.
Open 24 hours a day, 7 days a week, the original Cafe du Monde (800 Decatur Street, French Quarter, New Orleans, 504/525-4544) in the French Quarter for a morning or afternoon cafe au lait and beignets.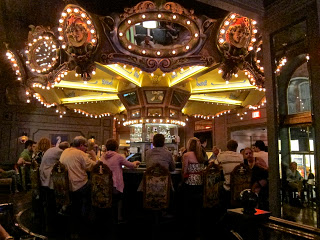 In the jackets-preferred Commander's Palace (1403 Washington Avenue, Garden District, New Orleans, 504/899-8221), Antoine's Restaurant (713 Saint Louis Street, New Orleans 504/581-4422) and Galatoire's Restaurant (209 Bourbon Street, French Quarter, New Orleans, 504/525-2021) for an upscale version of Creole, Cajun and New Orleans cooking.
We missed many of the recommended places, but we did have a drink at the Carousel Bar in the Hotel Monetleone (214 Royal Street, French Quarter, New Orleans, 504/528-1019), which made me dizzy even though we were sitting safely in the nearby large lounge. Changing my seat improved the experience so instead of watching the slowly spinning bar, I watched people on the street walking by and riding in horse drawn carriages. We heard music everywhere, in bars, on the street and in parks.
On our short trip, we started a list of places we would happily recommend and look forward to visiting again.

We made a pilgrimage to cash-only Cafe du Monde for coffee and a breakfast beignet. Given the crowds morning-noon-and-night, it's surprising they have such a limited menu. Basically it's a riff on the SNL cheeseburger-cheeseburger-cheeseburger joke. Only here it's cafe ole-beignet-orange juice.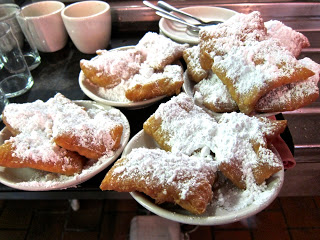 The beignets--better than any I've eaten anywhere else--arrive thickly coated with powdered sugar on tapas sized plates. There's no way you'll eat your beignet and NOT get sugar on your shirt and pants. The coffee is great and goes perfectly with the airy-suggary beignets. Even though the place is crowded, the turnover is quick so even if there is a long line to get in, you can sit, eat and even read the newspaper without feeling guilty.
A kitchen the size of a large closet accommodates dozens of waitstaff and kitchen help. With exquisite choreography, servers carrying large trays loaded down with silverware, stacks of paper napkins, water glasses, coffees and beignets leave the kitchen passing by others returning tray-fulls of empty glasses, dirty silverware and plates.
Meals at Herbsaint and Cochon were good. Finding fresh vegetables that haven't been steamed, stewed and fried isn't that easy in New Orleans. Donald Link treats his veggies with respect even as he celebrates all things meat, especially pork at pig-centric Cochon where I had a crust-perfect serving of short ribs on a bed of vegetables and creamy faro.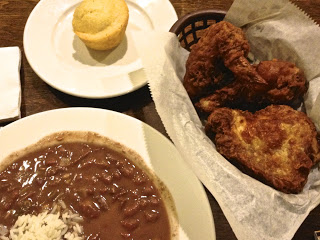 For lovers of good fried chicken, Willie Mae's is a lot of fun. One of my fondest memories growing up was our trips to the beach with containers filled with potato salad and fried chicken. Admittedly the fried chicken was soggy after spending the night in the refrigerator, but I loved it none the less.
At Willie Mae's, there is no such thing as soggy fried chicken. The chicken that arrives on the plate is as crisp as can be with the meat, hot and moist.

For $10.00, you get a wing, thigh and leg, a corn muffin and a choice of sides, which in my case was not a "side" but a second course of red beans and rice served in a large bowl. I loved the fried chicken and the red beans and rice. The beans were thick with flavor and a touch of heat.

The best meal of the trip started with an interview with Austin Kirzner, executive chef at Red Fish Grill on the edge of the French Quarter.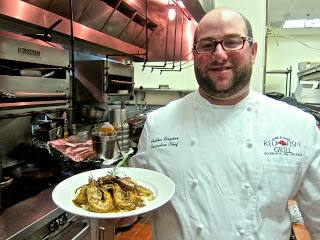 Kirzner sat down with me over a cup of coffee in the morning before the restaurant opened and described the kind of cooking he learned to do in Louisiana and New Orleans. At night my wife and I came back for a tasting of Red Fish Grill's menu.
Kirzner showed us his favorites: the BBQ oysters which were actually deep fried and served with blue cheese dressing, raw oysters on the half shell and Louisiana blue crab cakes.
A crispy whole redfish looked as if it could still swim but this time in a river of vegetables and a filet of hickory grilled redfish was topped with sweet lump crabmeat.
Several delicious desserts appeared on the table, including a fat slice of pecan pie with whipped cream and an over-the-top triple chocolate bread pudding that could barely contain itself in its silver bowl.
David Latt is an Emmy-award winning television producer who turns to cooking to alleviate stress. He shares his experiences with food and his favorite recipes on his blog Men Who Like To Cook.