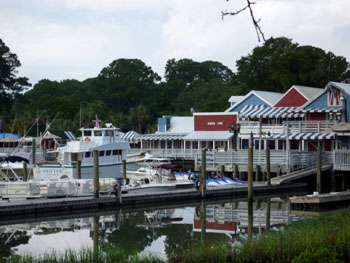 The Salty Dog Cafe in Hilton Head, SC is not your typical place to take Mom for Mother's Day. However, I think all Mothers should eat exactly what they want on their big day and nothing foots the bill for my Mom more than The Salty Dog.
It's located at South Beach Marina on the island of Hilton Head in South Carolina and conveniently located next door to our beach house. It's a working marina, with lots of fishing boats, and everything else from an old fashioned ice cream shop to a bait and tackle shop. There's several restaurants, outdoor bars, musicians at night. But the big attraction is The Salty Dog Cafe.
Growing up, we rented a house there in the summer and I remember the 2 hour waits we would endure just to eat there and buy a t-shirt. We'd make a night of it and spend the evening strolling around the marina, listening to music, eating ice-cream and hoping to spot 'Jake,' the great-grandson of the legendary 'Salty Dog.' Jake was a fisherman's dog and one night, many years ago their boat capsized and Jake paddled for 3 days and nights with his owner hanging onto his collar until they reached the shore. Sounds like a bit of a folktale to me but it sure has sold a lot of t-shirts.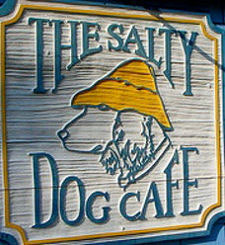 My mom and her best friend 'Ms. Mary Lynde' have been ridiculed for years by their families over the predictability of what they order in restaurants. Last week I chaperoned them and 3 of their other girlfriends to Hilton Head. The days revolve around their next meal. They talk to the locals when out shopping to see if they can find a new restaurant to try. After much conversation over their late afternoon bourbon cocktails of which new restaurant we should try, it's inevitable that one of them is going to say "Let's just walk next door to the Salty Dog; we'll try a new restaurant tomorrow." That goes for both lunch and dinner. I ate there 7 times last week.
Mother and Ms. Mary Lynde order the same thing every time. They will ask the waiter about the specials, ask the people sitting next to us what they are having but when it's all said and done they order the friend shrimp platter; fresh, local lightly battered, crisp and very hot. Served with homemade cole slaw (a restaurant is subject to lose their business if it's not) and french fries, must be hand-cut and crispy. Here's the real deal sealer, the homemade salad dressing. The Salty Dog makes all of their's from scratch everyday. That alone is enough to get them back to any restaurant.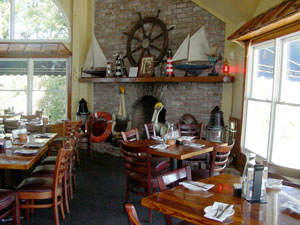 After those two place their order and everyone else has placed theirs, as the waiter is collecting the menus, one of them will say "might as well bring me a cup of your She crab soup" in which the other one chimes into bring her one too. Afterwards, It's usually my mother who says to the waiter that we aren't interested in the desert menu he offers but 'we'll just take a look.' Everyone agrees that after the huge meal no one wants desert. Mom tells the waiter the deserts look wonderful but we all ate too much, and as he's about to retrieve the check she says "But we might as well try something." No less than 3 deserts appear and there will not be a crumb left.
Jake III, the great-grandson of the legendary Salty Dog lives next door to us, and I still get excited to see him. I know the manager and the bartender now and so I'm not usually on the typical tourist wait list to get a table inside or out. We'll be down there for Mother's Day and she's already told me to think of somewhere to have lunch. I'll think of somewhere but won't bother to make a reservation cause I know where we'll be.
Laura grew up in a small southern town in Georgia on a cotton and pecan farm where life centered around family, friends and good food. She has lived in Atlanta for 20 years and has been a Flight Attendant for a major airline for 18 years, traveling the world in search for the next best meal.