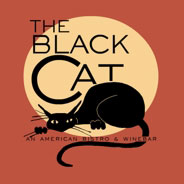 With my weekend plans suddenly cancelled, I got to drive up my beloved Central Coast for a second visit to Cambria in a month. Both times, I had one place in mind at which to dine: Black Cat Bistro. Since I first enjoyed dinner there last year, I have made it a point to return each time I have the opportunity. While I enjoy exploring new restaurants, Cambria is a small enough place, so I have almost gone to all the fine dining restaurants in town. Black Cat Bistro is my first choice, and I have pretty much made it my mission to try the whole menu this year. Even with my point overages on my Weight Watchers plan, this oh-so-delicious task will be worth it!

Despite the small size of Cambria, there are a good amount of locals that frequent the restaurant, as well as us out-of-town regulars. On a Friday night you should be able to snag a table in the main dining room or a seat at the bar. However, on a Saturday night I would highly recommend reservations. Since I travel alone (by choice, really!), I prefer to sit at the bar so that I can get a sneak peak at the various dishes coming out of the kitchen as they are taken to each table. Not to mention, chef Deborah Scarborough peeks out from the kitchen from time to time.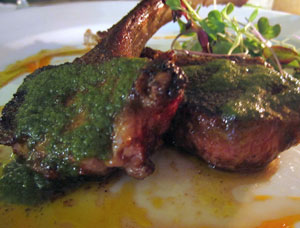 The first time I had dinner at Black Cat Bistro was in December of 2010. It was a Friday night and I was sitting at the bar having dinner while chit-chatting with another out-of-town regular from Calabasas. By the end of the night, Justin Judy, the sommelier of Black Cat Bistro, joined us and we had a great conversation about the Paso Robles wine region.

That first dinner at Black Cat Bistro was pretty amazing, so I had to return – this time armed with a camera and my iPhone for notes. I had the Charmoula Lamb Pops to start. They are served with a cilantro mint pistou, and chili oil. They were cooked perfectly! If it were not so inappropriate to use my hands and just suck on the bone, I would have. The flavors were jam packed in there and I desperately wanted to get each morsel, specially the small bits of meat and fat that got caramelized on the bone.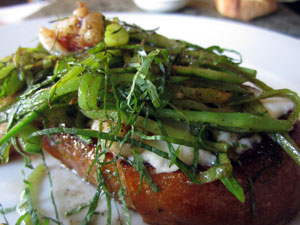 I then had to try the Shrimp and Snow Pea Bruschetta! It caught my eye the first time as it came out of the kitchen and my eyes followed it until it arrived to the lucky guests who looked at me wondering why I was staring at their food. This untraditional bruschetta included chevre, bacon jam, and mint. It was packed with flavor, yet a very light dish. The shrimp was sprinkled delicately over a bed of snow peas, and as you bit into the flesh of the toasted bread and the creamy cheese you could taste the layers of flavor in this seemingly simple appetizer. I was smitten!

While the Lamb Pops did tempt me to order the Roasted Australian Rack of Lamb, I opted for the filet mignon instead. The filet is served with a celery root creamed spinach, tarragon pesto, red wine demi glade, all topped with crispy onions. All of this was put over the top with Jason's wine pairing suggestion. The beef was tender and extremely moist. Sometimes, sauces and reductions are added for moisture but this was a truly moist cut and I enjoyed every bite!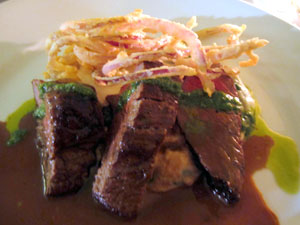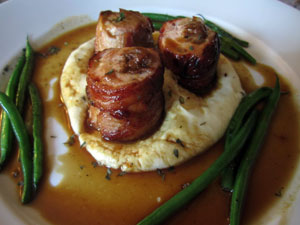 During part deux, I was seriously torn between the aforementioned Rack of Lamb and the Apple Stuffed Breast of Pheasant. My vacant, confused, worried stare prompted Jason to come to my rescue. With his urging I finally choose the pheasant. When it arrived, it was sitting on top of parsnip puree, with a side of haricot vert, thyme, and some pheasant calvados jus. To my pleasant surprise, each piece of apple stuffed breast was individually wrapped in bacon. I must have done something right in my past life! As soon as I took my first bite, I knew I may possibly not be able to order other dishes in the future. This was the best dish I had tried at Black Cat Bistro. Thankfully the people next to me were a good two seats away because I'm sure I was quite vocal about how much I loved this dish.

At this point I was wondering how anything can possibly top this… Then dessert came!

I've tried a few dessert dishes but these are my favorite two: The Lemon and Chevre Cheesecake and their newest addition, the Chocolate Brownie Ice Cream Sandwich. The Lemon and Chevre Cheesecake sits on pomegranate molasses and is sprinkled with little bubbles of fresh pomegranate. I usually don't order cheesecake at most restaurants but Jason convinced me and well, after the pheasant – I trust him.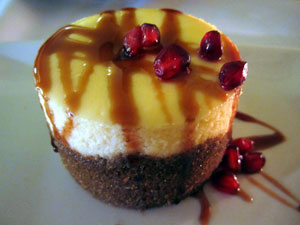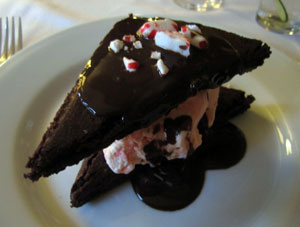 The Chocolate Brownie Ice Cream Sandwich filled with peppermint ice cream, covered in chocolate sauce, and garnished with peppermint candy pieces was the finale. The brownie was moist and perfectly soaked up the melting peppermint ice cream and chocolate sauce. I loved the crunch from the crushed peppermint candy. It was all heavenly!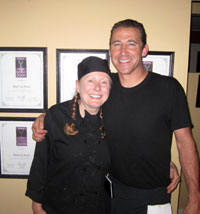 It's no wonder Black Cat Bistro has won awards year after year (look at their wall!). With Chef Deborah's seasonally changing menu, I may have to make special trips just for the new menu items! Jason also keeps the wine list up to date with the newest vintners in the Central Coast region as well, such as my recent favorite: Hearst Ranch Winery "Three Sisters" 2008 Cuvee.
Equally important, Black Cat Bistro has several "Green" initiatives behind the scenes, which make me want to only dine at this restaurant and nowhere else in the Central Coast. The food may have something to do with it, too! Cheers!
Black Cat Bistro
1602 Main St. #C
Cambria, CA 93428-3300
(805) 927-1600