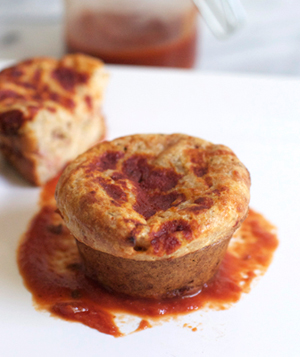 I am going to miss our lazy days of summer. Breakfast, lunch, snack, and dinner doesn't seem as daunting during the summer as it does during the school year. First of all, I get a bit of help with the prep, the clean up, and my sons culinary suggestions inspire me.
The school year brings it own set of hurdles. Breakfast and lunch have to be prepared at the same time – unless I can get my act together to prep the night before. Then there is the after school rush. Piling them into the car only to hurry home, get their homework done, give them a healthy snack, and hustle them to their various after school activities. Oh boy am I going to miss summer.
For the past few weeks I have been experimenting with a few ideas. My kids love pizza, but the stuff in the box leaves much to be desired and I just don't have enough time to make one from scratch – given our schedule and how limited our time is (sadly said). Solution: pizza muffins. I grew up eating lots of crap in small frozen little boxes, Gino pizza rolls being one of them. These snacks are not a pizza roll, but more like a pizza muffin. Served with a side of my homemade pizza sauce and I have covered all the bases. Eli stuffed his with mozzarella cheese, homemade meatballs, and grated parmesan. Isaac, fresh mozzarella, basil, and some marinated, roasted peppers. Levi liked it simple – cheese and sauce. Use your imagination; spinach, mushrooms, olives, procuitto, BBQ chicken, or sauteeed onions would all work. you be the judge.
Homemade Pizza Muffins
Yield: 14 regular size muffins
Ingredients:
1 1/2 cups whole wheat flour flour
1 1/2 teaspoons baking powder
1 1/2 cups milk
2 eggs
1 1/2 cups shredded mozarella cheese
1/2 cup grated parmesan cheese
1-2 cups of your favorite toppings
1 teaspoon dried oregano
1 teaspoon italian seasoning 1/2 teaspoon ground pepper
1/2 teaspoon kosher salt
Pizza sauce for serving
Instructions:
Preheat oven to 375°F. Grease 2 12-cup muffin pan. In a large bowl, whisk the dry ingredients.
In another bowl whisk the eggs and the milk. Add to the dry ingredients and mix well. Add your cheese and seasonings and mix well. Fill your muffin cups half way. Add your various toppings and a tablespoon of pizza sauce. Cover toppings and sauce with batter. Top with a dollop of sauce and bit of grated parmesan cheese.
Bake until puffed and golden, 25-30 minutes. Let cool and remove from the pan. Serve the pizza muffins warm with heated pizza sauce for dipping.
Flash freeze the left overs and when frozen place in a freezer safe container. When ready to eat, warm in your toaster oven and bake at 375°F until warm (about 10 minutes).
Susan Salzman writes The Urban Baker blog to explore her dedication to good food in the hope of adding beauty to the lives of her family and friends.