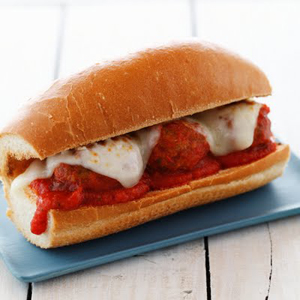 You know how I made it through sophomore geometry? My mom's meatball sandwiches.
I dreaded geometry. Measures, angles, slopes, points. Coordinates? I thought they were clothes. It didn't help that my class was right before lunch, last lunch, actually, so I never knew if it was the geometry or the hypoglycemia that was causing my sweaty palms and headaches.
Nothing made me feel better than pulling my sandwich out of its paper bag. I'd take a whiff, know instantly it was a meatball sandwich, and give praise for Italian mothers. Then I'd carefully open the crinkly aluminum foil and discover three of my mom's homemade meatballs snuggled lovingly inside of a chewy Italian roll and doused with just the right amount of red gravy. It was as close to Nirvana as I would get, at least until I read Siddhartha.
Thanks to Mom I passed geometry and learned how to make a killer meatball sandwich, so killer that I included it in my book, The Encyclopedia of Sandwiches.
Meatball Sub
Yield: 8 sandwiches with 3 meatballs per sandwich
Printable recipe.

Tomato Sauce:
2 teaspoons olive oil

2 shallots, diced

4 garlic cloves, minced
2 (28-ounce) cans crushed tomatoes, preferably San Marzano tomatoes

1/2 teaspoon crushed red pepper flakes

2 teaspoons salt
¼ cup fresh basil, finely chopped
1/4 cup fresh parsley, finely chopped

Meatballs:
½ pound ground beef
½ pound ground pork
1 cup breadcrumbs
1/3 cup grated Parmigiano-Reggiano cheese
1/4 cup chopped fresh, flat-leaf parsley
1 large egg, lightly beaten
1/2 teaspoon salt
1/2 teaspoon freshly ground black pepper
1/8 cup olive oil

1/8 cup canola oil

24 cooked meatballs (below)
8 crusty Italian rolls, split lengthwise
16 slices (about 1 pound) mozzarella or sharp provolone cheese

1. Warm oil in a medium pot over medium heat. Add shallots and garlic sauté 2 to 3 minutes or until translucent. Stir in tomatoes, crushed red pepper flakes, and salt. Reduce heat to medium-low. Let sauce lightly bubble for 15 to 17 minutes, or until slightly thickened. Turn off heat. Stir in the fresh herbs.

2. Place meats in a large bowl with breadcrumbs, cheese and parsley. In a small bowl, beat the egg with salt and pepper; add to the meat mixture. Mix the ingredients with your hands until everything is moist and the meat holds together. If it's too dry, add a bit of water or another beaten egg. If it's too moist, add more breadcrumbs. Once the consistency is right, use your hands to roll mixture into 1-1/2-inch balls.

3. Place oils in a large skillet over medium heat. Fit as many meatballs in the skillet as possible without overcrowding. Cook about 2 to 3 minutes until browned; turn and cook another 2 to 3 minutes, until all sides are evenly browned. Place on a paper towel-lined plate to absorb excess oil. Repeat with remaining meatballs.

4. Add meatballs to sauce and warm over medium heat 10 minutes, stirring occasionally.

5. Preheat broiler. One at a time, add 3 meatballs to a roll. Top with sauce and 2 cheese slices. Place on a large baking sheet and repeat with remaining sandwiches. Broil 2 to 3 minutes or until cheese is melted and bubbly and bread is golden. Eat them while they're hot.

Note: Meatballs can also be baked. Preheat the oven to 400 degrees. Shape as above and place them on a tinfoil-lined baking sheet (for easy clean up). Cook for 20 minutes, or until browned.

Variations: Substitute cooked Italian sausage for the meatballs to create a sausage sub.
If you can't decide, then add sausage to the meatballs for meatball and sausage sub.
Susan Russo is a free lance food writer in San Diego, California. She publishes stories, recipes, and photos on her cooking blog, <Food Blogga and is a regular contributor to NPR's <Kitchen Window. She is also the author of Recipes Every Man Should Know
and The Encyclopedia of Sandwiches
.