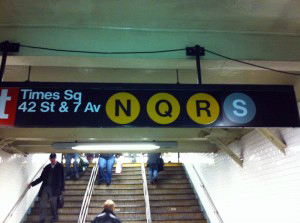 Call out the riot squad! Barricade the streets! Lock up your daughters! The Three Fat Unemployed Actors' Lunch Club is on the loose again — this time in the far reaches of Queens at the wonderful Trattoria L'Incontro. Our boys met at noon at the downtown #1 train, transferred at Forty-Second Street for the N and rode that to the very last stop on the line – Astoria — Ditmars Boulevard. From there, it's just a short stroll to L'Incontro at 2176 31st Street.
There's a moment when you first walk into a restaurant – and catch that first whiff from the kitchen — that can make or break the whole meal. That moment sets you up; it keys you into the kind of experience you're going to have. And it's not just the smell – although the smell is crucial; if you walk into a restaurant that has no smell, turn around and walk out – but it's also the look, the sounds and the faces of the people who greet you. Some people innately understand hospitality, some don't; you can't fake it. Trattoria L'Incontro understands – it has it all – great cooking smells, a spacious, unpretentious room, the tinkle of glass and silver and the wonderful sense that you are in the hands of consummate pros who will not only please you, but take enormous pleasure and pride in pleasing you.
We were in Fat Boy heaven and we knew it. We staked out our relative positions at the table (three is a great number because inevitably we get a table for four and we can stretch out); we unfolded our napkins and opened our menus; we discussed our choices of water and wine and then we entered into negotiations with the wait staff, which is, in my opinion, among the best in New York. I would say the best, but I don't want to piss anybody off.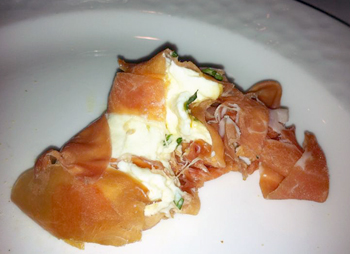 "Would you like to hear about today's specials?"
Of course we would.
And then, like a Greek poet or an Arthurian minstrel, he began to lovingly describe the literally hundreds of possibilities for our lunch – all from the gifted hand of chef Rocco Sacramone. We wanted everything, of course. That's how we got to be the Three Fat Boys. What to do? How to choose? Our waiter sensed the problem and subtly suggested, "you might want to try a couple of different antipasti and I'll split them three ways?"
Perfect! We chose the grilled sardines (the best –mopping up the oil on our plates with crusty bread) and the burrata with prosciutto (rich, silky, salty and sweet).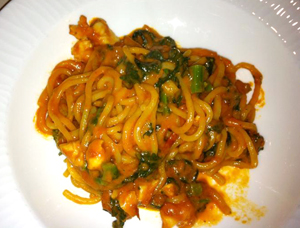 We were off to a good start. Then the pasta course: again we had two separate pastas, split three ways – spaghetti with lobster, tomato and a dash of fresh mint (unbelievable!) and fresh-made ravioli, stuffed with veal and sausage and topped with a large mound of fresh, sliced porcini (to die for!). We were sipping a Banfi Rosso di Montalcino, which was perfect and at a very good price. L'Incontro doesn't overly jack up the wine prices,which is another example of their hospitality.
Our waiter sensed we were full, but that we didn't want to stop. He intuited our dilemma. So he recommended a simple fish dish – tiger fish filets, sauteed simply in butter and lemon – one dish split three ways.
Perfect.
We passed on dessert and coffee because we all had to run back to see if our agents called, but we agreed that this is a place we'll return to – so that slowly, over many visits, we can make a serious dent in that specials list.
Michael Tucker is an actor and author whose third book is the recently published Family Meals: Coming Together to Care for an Aging Parent
.