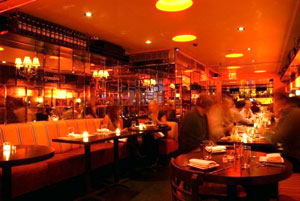 For someone who considered "nursery food" buttered tortillas with Jalapenos or cheese enchiladas, it is with more than just a foodie interest that I seek out Mexican restaurants wherever I live. It is an emotional imperative! I am not Latino, for if I were I would probably have had a far more sophisticated concept of comfort food – Enchiladas de Mole Poblano for example – but being raised in Southern California coming from Texas roots, it is natural that Mexican food was a staple in our family's diet. Well, more to the point Mexican restaurants were a staple in our weekly routine. I could count on my buttered tortillas with jalapeno bits most Thursday and Sunday nights.
So, to find the muy cool Mañana just off Madison Ave on East 61st Street, less than two blocks from our apartment was reason to rejoice. While Mañana has a decidedly un-traditional look, the subtle and authentic flavors filled my heart with memories of Puebla, Mexico City, Vera Cruz and my local storefront café in Toluca Lake. Greenies will enjoy the eco friendly décor and if you are of a mind, there is a tequila and mescal menu, which includes a Don Julio 1942 at $650 and the old standby Amateur del Mexcal, "Fresh green apple muddled with Canton liqueur, fresh lime. Juice, guanabana fruit shaken with Del maguey crema del mescal and scorpion mescal completed with a cactus and lemongrass salt rim" neither of which we ordered.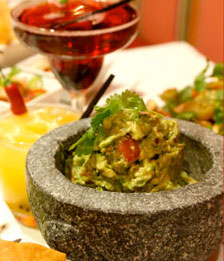 After a perfect, freshly made GuacamoleTradicional, I wallowed in the afore mentioned Enchiladas de Mole Poblano with it's utterly divine combination of chili peppers, chocolate, cinnamon, and sesame. Bill Rollnick, my "delicious" husband, ordered Poblano Pepper Relleno stuffed with spinach cheese and corn with salsa Veracruzana topped with cotija cheese and crema Mexicana. Talk about comfort food!
However, it was too healthy for Bill; Baked rather than dipped in egg white batter and fried, it failed the memory test. Also on the menu, Costilla de Res – short ribs and sweet mashed potatoes, Tacos al Pastor – Guajillo marinated pork grilled pineapple, chile costeno salsa, and a variety of Tortas at lunch. The menu is limited but well chosen, and above all it is " muy comforting!"… and close.
Mañana, 27 E 61st St, New York, NY 10065-8059, (212) 752-8900