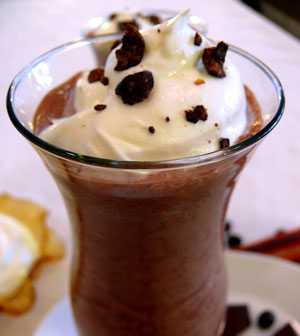 Trips to New York City have become scarce over the years. (Maybe non-existent is a better description.)

I don't have family, friends or business in New York. All past trips have been purely hedonistic, with food always at the top of my list.

I visit all the tourist traps. I can't help it. I am a tourist when I'm there, a downtown poser in every sense of the word. Every trip has consisted of visits to the Empire State Building, Tavern on the Green, a carriage ride through Central Park and Serendipity 3.

Serendipity 3 reminds of a place you would celebrate your sweet sixteen. A glorified malt shop with faux Tiffany lamps, long lines, marginal service and so-so food. However, they won't let you make a reservation for just dessert...you have to eat a meal. So we would eat....just to get dessert.

There is only one reason I patronized Serendipity 3...for the Frozen Hot Chocolate. It's out of this world.

Served in a very large bowl-dish-mug thingy with a straw or two...it's over the top delicious. Thoughts of this amazing dessert-drink have crossed my mind over the years so imagine my excitement when I came across Serendipity 3's recipe for Frozen Peanut Butter Hot Chocolate.

Try not to think too hard about how contradictory the words "frozen hot chocolate" sound...just embrace it.

These pictures almost appear pudding-like but trust me, you can put a straw right in and slurp it up.

The best part of this recipe remains that the peanut butter is not a wimpy background flavor. It's right there, partnering with the chocolate, in full-fledged peanut buttery goodness. It's sublime.
Frozen Peanut Butter Hot Chocolate
Adapted from Serendipity 3

6-1/2 ounces good quality milk chocolate, bittersweet chocolate and semisweet chocolate
3 Tablespoons granulated sugar
1 Tablespoon unsweetened cocoa powder
1-1/2 cups whole milk, divided
1/2 cup chilled whipping cream
3 Tablespoons peanut butter
3 cups ice cubes
Chocolate shaving or crushed chocolate covered espresso beans for garnish

Place assorted chocolate in a medium metal bowl. Set bowl over saucepan of simmering water; stir until melted and smooth.

Add sugar and cocoa powder to the melted chocolate. Stir to blend. Gradually whisk in milk until a smooth mixture is achieved. Remove from heat and cool to room temperature.

With an electric mix, beat chilled whipping cream until peaks form.

Place remaining 1 cup milk, chocolate mixture, peanut butter and ice cubes in a blender. Make sure to add the ice to the blender last so it doesn't lock up the blades.

Divide between two large glasses and top with whipped cream. Sprinkle with crushed chocolate espresso beans or chocolate shavings.
Cathy is currently in the development stages of her vineyard and winery in the Willamette Valley of Oregon. She is a food writer for Davis Life Magazine and blogs daily about wine, food and everyday living. She lives with her husband and two sons. You can visit her at noblepig.com.