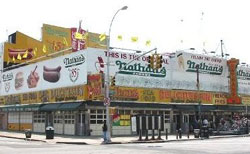 My dad was a two job guy. We lived in a representative, working class neighborhood in Brooklyn, which was to me, the paradise of the world. Representative I learned years later meant not just Jewish people, like us, but an equal mix of almost everything else. The working class is obvious.

My dad worked at a brokerage house on Wall Street as a runner from 9 to 3. That was his first job. His second job was at the Morgan Annex branch of the US Post Office, in mid-town Manhattan. He had started at the PO as a teen-ager, and was in it for the longest possible haul, a modest pension being the carrot at the end of his rainbow. His hours on that job were 4 pm to mid-night. He rode the subway to work. He never owned a car. Once in a long while he got driven home.

One morning, as we were getting ready for school, and he was getting ready to leave for "the city," he told us, over breakfast, that he had gotten a ride home the night before and that he and his buddy went to Nathan's before coming home. Nathan's was the most famous hot-dog stand in Coney Island, a dine-out destination for our family. On summer evenings. After the beach.

He told us that they were "ten deep at two in the morning." "Impossible," we squealed, "you're making it up." My mom even said, "c'mon, Bill, that can't be." "Ten deep," he insisted.

Here's how he proved it. One night, around one in the morning, he woke us up and, in our pajamas, piled us into a waiting taxi. Off we went to Nathan's. "I'm gonna show ya," he said, "you're gonna love it."

Ten deep was on the money. We had dogs, dripping with mustard. We had fries. We had orangeade. We were in our pajamas. We couldn't stop laughing.

I've loved hot dogs and deli mustard all my life. And I've never been able to get enough orangeade.


Diane Sokolow is a film and television producer. She resides in New York.