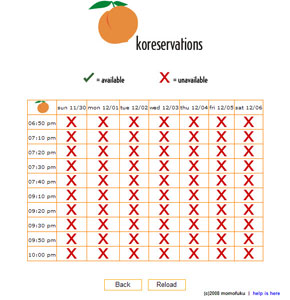 I was lucky enough to snag a seat at the hallowed (and reservation demented) Momofuku Ko in New York in early October because someone had (oh my god!) cancelled and I was quick enough to grab the reservation. For those of you not yet in the know, Ko is the premier flagship in wunderkind David Chang's gastronomic empire. In keeping with its cutting edge food and service (the chefs, like sushi chefs, do the serving but not the busing), Ko only allows you to make on-line reservations. Just like Amazon.com, you need to open an on-line account (something I had done about six months earlier) which allows you the opportunity, and some would argue esteemed privilege, to make a reservation.
This system guarantees a degree of egalitarianism which, as an attorney with a career dedicated to civil liberties, I really should respect and appreciate. So even if your last name is DeNiro or Gates, you (or your assistant) still have to compete with the masses in making a mad digital dash to score a reservation. As a supreme testament to Ko's popularity and scrumptiousness, over the last year, even as the echo of high-end restaurants slamming their doors shut reverberated throughout Manhattan, Ko rarely had a night when it wasn't booked to capacity for at least a week in advance.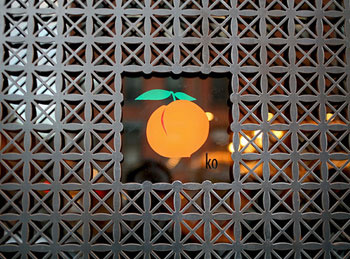 Ko is located at 163 1st Avenue but don't look for the number 163 or for a sign that says Momofuku Ko or even Ko. Instead, look for a peach – the ubiquitous symbol of Chang's empire – inscribed on a dark, brown über-modern metal door. Using a symbol like this is seemingly meant to impart the message: you want us much more than we want you. And from the looks of Ko's success, Mr. Chang may be exactly right.
Though modern food historians may not know it, this was not the first Ko to be located in the East Village. Thirty-five years ago when I lived on 10th St between Avenues A and B across from Tompkins Square Park, I used to frequent Leshko's located on Avenue A and 7th Street. One of a number of East European restaurants in the neighborhood, Leshko's was known for its large plates of delicious meat, cheese and sauerkraut pierogies and bowls of rich borsht. It changed hands around 10 years ago, one of the first victims to succumb to the armies of the invading cool.
Ko and the old Leshko's do have one thing in common – a counter. The former is composed of some exotic blond wood, the later was made of Formica. Oh yes, there is one more similarity: like Ko, Leshko's had female waitresses, except the ones in Leshko's looked like they actually ate the food.
Unfortunately, despite all the hype, my first few bites did not wow me. The chicharon (read: fried pork skin) was simply not uplifted by the sprinkling of togarashi, a Japanese dried chili pepper concoction. And what seemed to be a black pepper biscuit (but had the texture of a giant challah crouton) glazed with mirin and what tasted like bacon fat, seemed to cross the line from pleasantly buttery to unctuous. Luckily there were a bunch of real stars to come. And with these dishes what impressed me was not the taste as much as the clear culinary wisdom that went into creating them.
The little mahogany square of braised short rib on a bed of onion jam surrounded by a few cherry tomatoes doused in a yuzu vinaigrette perked me up. This short rib was flawlessly cooked but then again this cut of beef (along with pork belly) seems to be on every menu except McDonalds. For me the plate's luminaries were the slightly tart tomatoes that elevated the beef's true essence.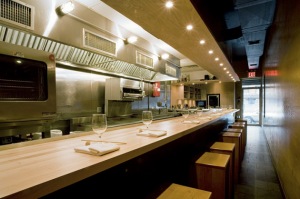 The next plate was even better – smoked paddlefish caviar (a fish similar to the sturgeon that lives in the Mississippi and its tributaries and is far from being fished out – for now) resting on a river of oozing egg yolk surrounded by a bed of onion soubise (cut the onions finely and slow cook the hell out of them in butter) with a mere dash of sweet potato vinegar. An utterly sublime concoction. The smokiness of the chicken egg flowing into the caviar was an ovarian masterpiece. The real genius however, was in the way the egg was prepared – a shelled 5 minute soft boiled egg (think about it – try peeling a soft boiled egg) immersed in smoked water. It was not revealed how the water was smoked but it was either with a dash of liquid smoke (I don't think this is the way the Changistas roll but who knows) or just putting a bowl of water in a smoker. Regardless of how the water was smoked, this dish demonstrates how great, the lowly mundane egg can be in hands of a master.
While the reviews seemed to indicate that the sashimi course is usually made with fluke, the fish that night was several slices of silky aji (Spanish mackerel). It was appropriately doused with some kind of Meyer lemon reduction and ginger pickled shallots – a great substitute for pickled ginger served at sushi bars.
Another stand out – especially because I have never found it in any place aside from a classic Japanese restaurant – were matsutake mushroom cream raviolis and a companion broth of matsutake tea. I knew these heavenly shrooms were really fresh because their faint cinnamon scent arrived before they did – matsutakes are now in season so for those of you lucky enough to see them on a menu or in a store – run don't walk. The tea, made from simply simmering them in a broth, was a classic Japanese preparation you would find in haute joints in Kyoto. The addition of the pine nuts was an inside joke only matsutake veterans would get – matsutake means pine mushroom in Japanese because they are only found in pine forests. The ravioli were pleasant but I would reconsider serving the fresh slivers laid on top, as these shrooms really want a little heat to bring out their flavor. While on the subject of ravioli, another inventive course consisted of two kinds of ravioli made from wafer thin daikon skins filled with braised short ribs and some kind of onion confit. The real star were the skins themselves – obviously the daikon was sliced paper thin, brined to make it supple and then expertly filled. The only problem was that the shortrib was way too salty and that salt didn't do well with the dashi broth that was poured over the dumplings.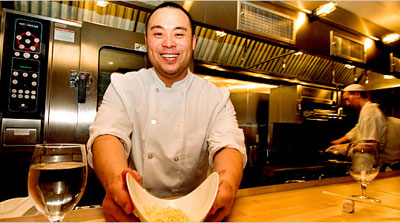 For the meat course, the chefs served a solid square of venison. The real star on the plate however was not the juicy venison but the celery root cream – not a puree as I have read in some on line reviews. The chef told me that it was added to be a foil for the very lean venison – flat out brilliant idea. He did not (of course) give up the exact recipe. However, from what I could decipher, this "side" was probably made by steeping celery root in heavy cream and butter (plus a few subtle spices) and simmering it ever so slowly, then straining out the celery root. The dish was so luxuriously smooth they had to have used a very fine-screened filter to do the straining. The cream is obviously then chilled, thickened and whipped. And by the way the cream was made even tastier by the shaved brussels sprouts sautéed in butter that surrounded the Bambi meat. Some huckleberries were strewn over the plate and a few (kind of oily) parsley root chips tucked around the meat but they added little to the dish's overall profile. In retrospect, the deer meat was actually the side.
Just as a footnote – I was really surprised at the large amount of butter and salt used throughout the various preparations – it seemed every few minutes one of the chefs was dipping into the canister below the food bar, taking out a thick scoop of butter and throwing it in some pot or pan. Not a very Asian cooking technique, but then again butter and salt are the key to most western diners' hearts. Before leaving this dish I have to note a potentially disturbing technique I noticed the chef use in testing the doneness of the venison. He inserted a very fine pin, holding it by a plastic tab on one end and inserted it into the meat. He then removed the pin and then briefly touched it to the center of his chin. He then returned the pin to a container beneath the counter. I saw him repeatedly perform this testing for each piece of meat he removed from the oven. Hopefully he used a new pin each time or placed the pin in a sterilized solution but I just don't know. But if he doesn't do either – yikes. Maybe someone who reads this can let me know if they have any intel on this matter.
The fish course fell a little flat. A square of monkfish slowly baked and set in a pool of spicy fish broth and finely minced veggies would have deserved big kudos if not for the few pieces of uni layered on top of the fish. First, the uni made the dish a little too busy. More importantly, because cold uni is such a flavor-bully, it unfortunately swamped the delicate monkfish.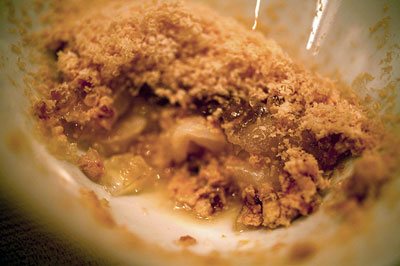 The famed shaved (more specifically microplaned) frozen foie gras torchon over Riesling gelee, litchi and pine nut brittle was interesting but not as terrific as I had hoped. No one however, can deny that freezing foie gras is nothing short of dazzling. (As an aside, just to prove that not everyone who eats at Ko is a foodie, there was the diner down the road from me who asked the chef as he was furiously microplaning the huge chunk of frozen liver – Is that a truffle?)
I have nothing to say about the desserts because they were largely forgettable – in fact if you look at most reviews, the desserts are rarely mentioned. And in the interests of full and fair disclosure, I must admit I am not a dessert person.
Ko has been billed as an Asian-fusion restaurant. It's not. Chang is creating his own style of cuisine. Ko is the place to go if you want to see what the future holds for restaurants, but remember, if you are lucky enough to snag a reservation, have your GPS ready.
http://www.momofuku.com/ko/
163 First Avenue, New York, NY 10003
Paul Mones is nationally recognized children's rights attorney specializing in representing sexual abuse victims and teens who kill their parents. He is also a published author and most importantly an avid chef who won the 1978 North Carolina Pork Barbecue Championship.