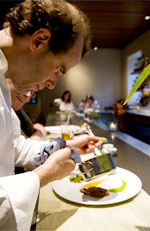 A friend of mine says that all the restaurants in New York City are good. Her belief is that is that with so many options, only quality survives. I'm not one to put her theory to the test as I have been to NYC only three times in my life and on two of the trips "fine dining" was definitely not an option. On this most recent visit, I was with my husband and 17-year-old daughter—showing her "the city" before dropping her off at college in Massachusetts. Our plan was to have one special dinner. If all the restaurants in NYC are so good, then how do you decide where to go?
I knew exactly where I wanted to go. I wanted to go to Blue Hill in Greenwich Village, and no, not because the Obama's went there on their "NYC date night" (although how cool is that?). I wanted to go to Blue Hill not only because I love (obviously) the whole farm-to-table philosophy, but because I have had the opportunity to test Blue Hill Chef Dan Barber's recipes in the Bon Appetit test kitchen. Dan Barber's recipes are awesome—any one of these on Epicurious will please. After experiencing his creative treatment to vegetables—Cauliflower Steak and Kale Chips, I knew that if I ever had the chance to eat at Blue Hill, I would.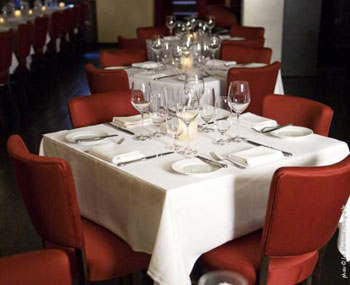 I did, and it was delightful. From the minute we walked in the door—the hostess, the Maitre 'd Franco, the servers and the sommelier (I wish I knew all their names, but I get weirdly shy at restaurants) are all so friendly and welcoming. I don't know who was in charge of the kitchen that night, (I repeat, I get weirdly shy at restaurants) but all the food that came to our table was exceptional. I'd describe the dinner in detail, but seeing as I'm no Jonathan Gold, I'm afraid I couldn't do it justice.
Tomato Panzanella with Melon Gaspacho, Morning Egg with Bacon, Chard and Field Mushrooms, Duck with Summer Beans and Tomato Confit (with hints of ras al hanouj?)Lamb Neck with Okra, Fingerlings and Rapini, Melon-Berry Sorbet with Watermelon, Berries and House-made Poprocks, Milk Jam with Rose Hip Gelato, Peaches and Raspberries, Peanut Butter Gelato with Chocolate "Cake" were all creatively paired with really interesting wines. This was all served after amuses of house-made charcuterie, V-8 juice, butter, ricotta, tomato salt and lard. (Lard! Sprinkled with a little piment d'esplette — it was like eating "essence of pork.") Martin described the meal as a "food dream" and our daughter, who devoured everything exclaimed "this is why people blog about food!"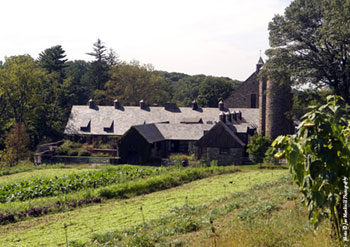 Having had SUCH AN AMAZING MEAL we decided to visit the Blue Hill Farm on our way up the Hudson River valley. The farm is on part of the Rockefeller Estate near Poughkeepsie—it's a gorgeous adventure in sustainable farming, with educational programs, a book store, a café and restaurant. Franco suggested getting there at 5:00 and eating at the bar—an excellent idea—but we were on a mission to visit her buddies at Bard by nightfall. If I ever return to the Hudson River Valley, Blue Hill at Stone Barns is where I'll go.
Blue Hill
75 Washington Place
New York, NY 10011
(212) 539-1776
Blue Hill at Stone Barns
630 Bedford Road
Pocantico Hills, New York 10591
(914) 366-9600
Jeanne Kelley is an established food writer, recipe developer and food stylist based in Los Angeles, California. Integrating locally grown produce with globally influenced flavors, Kelley's approach to cooking is both simple, festive and fresh. Her recipes can be found in her latest book is Blue Eggs and Yellow Tomatoes: Recipes from a Modern Kitchen Garden
and on her blog Eat Fresh.