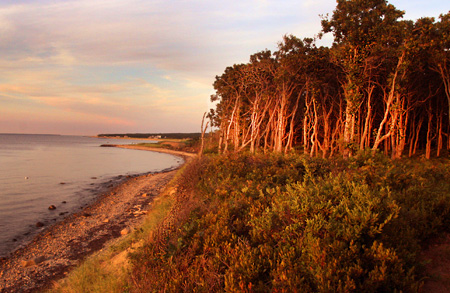 Martha's Vineyard in the Fall is the secret treasure of Vineyarders. The "summer people (some are not)" have returned to their sophisticated rat races, leaving perfect weather and fabulous restaurants to the people who really love the Vineyard – those whose families have been living in Martha's Vineyard since, well, the 17th Century.
It is a time of weddings, fishing tournaments, sunny days and starry nights.
My favorite Vineyard restaurant, Atria, centers its activities, neither in its elegant upstairs restaurant nor its garden pavilion, but in the basement pub with its naked Marilyn Monroe photo by the bar. Now we know winter is nearby and the robust clam chowders and slow braised potpies begin to appear on the menu.
While this restaurant is local, its owner chef isn't! Trained by our wonderful Wolfie – Wolfgang Puck, Chef Christian Thornton and his gorgeous wife, Greer Thornton have made Christian's gourmet training and the Vineyards fresh local flavors and organic produce a marriage of perfection.
However, in the basement pub with its cool jazz on the weekends, "gourmet" is hidden among what at first glance seems ordinary comfort food – The Burger!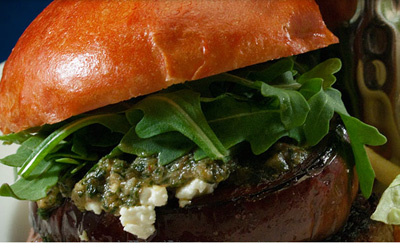 There is the Classic Burger with cheddar cheese, sautéed onions, roasted mushrooms, tomatoes, Bearnaise, and bacon…. Or the Fast Eddie with bacon, avocado, American cheese and over easy egg… The Frenchy with St. Andre cheese, crispy prosciutto, baby arugula, cabernet roasted onions and seared foie gras… Dante's Inferno ("OK listen, the habanero pepper garnish is f'n hot. Fair warning") chipotle aioli, roasted poblano peppers, avocado, pepper jack cheese, spicy roasted tomato salsa… Thai Shrimp Burger with sambal aioli, shaved jalapenos, pickled cucumbers… Moroccan Lamb Burger with eggplant relish, feta, pine nuts, Romesco sauce, and mint… The Bombay Bird curried spiced turkey burger, watercress, cumin aioli, shaved green apple and crispy pappadam, … The PETA burger marinated portabella mushrooms, roasted red pepper, goat cheese, roasted tomatoes, with basil pesto and finally – in my honor – Nancy's a Total Hottie (ahem) – homemade chili, cheddar, red onion, fresh jalapenos with cilantro. Did I mention that Wine Spectator Magazine said it has "one of the most outstanding wine lists in the world?"
If that doesn't bring you to the Pub, how about Crispy Baja Fish, Lobster and Pork Belly Tacos, Fried Chicken, Crispy Wok Fired 2lb Martha's Vineyard Lobster … it goes on, but truth be told, I am just happy having a margarita at the bar meditating on Marilyn waiting for my burger.
ATRIA RESTAURANT: 137 Main Street, Edgartown, MA 02539 / 508-627-5850
Nancy Ellison, award winning photojournalist and celebrity portraitist, has authored fourteen books of photographs, including "Romeo and Juliet: The Love Story in Dance", "Starlet" and "Wagner's Eternal Ring."