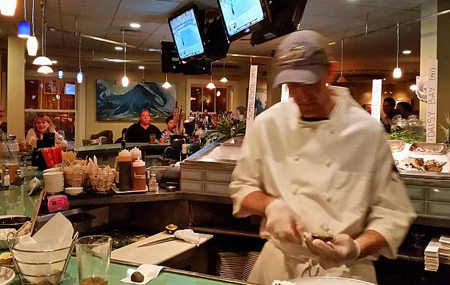 Our boogie boards are home but we're amped at Piscataqua's harbor. After hours on red brick, the idea of dinner is is looking good so we tube into a high top in the bar. For openers, Jim's got a pomegranate martini. It looks like a Cosmospolitan but that comes with cranberry juice. Who knew all you have to do to a martini is add fruit to make it a health drink? One taste and I want one but I know better.
We can't get seats near the shucker but that's okay. We get it: busy is busy. We opt out of appetizers but not before we give some thought to the lobster corn dogs and lobster brie nachos. I've never had either one, I mean, have you? There's all that proximity to Maine. Still, if you had lobsters, would you be burying them in cornmeal and frying? No, I wouldn't but they look good going by. And if I had brie, the queen of cheeses, and nacho chips with cheddar, salsa, jalapeño and lobster, how would it go? I think it would have to go with a big pitcher of beer or margaritas is what I think. We pass. Instead, Roseanna's having Sonoma-Cutrer's Russian River Ranches creamy Chardonnay. Our server, Laura, knows her wine this Saturday night dodging a cheerful crowd that's, like us, out to party.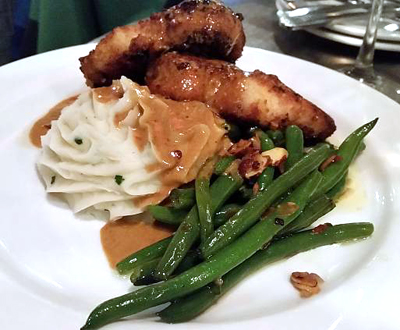 It's more than okay if you don't want fish. Jim's pan-fried buttermilk chicken with mashed potatoes and green beans is wafting over. Mashed with gravy: check, green beans: check, with a serving of crisp chicken to make every one of your health resolutions scram. It's like what I imagine Thanksgiving down South ought to be. Yes, yes we know, it's juicy, flaky chicken in a fish restaurant. Their coating can match anyone's, which is as much as a New Yorker can know about southern fried. For sure it's great with those healthy martinis, no matter your choice of fruit. (I compared pomegranates and cranberries; it turns out each has its own charm but more important is they're very good with vodka.)
Roseanna and I are having salmon that's been marinated in miso, plated on rice cake with shitakes. She takes hers with ponzu and I take mine without: light on sauce, heavy on flavor. Ponzu is citrus-y bringing out the salmon's warmth and depth. Mine is great all by itself and it's just the fish, which has no trouble taking the challenge. Mushroomed rice is always creative. We're happy someone took time to sliver asparagus which not only makes for a better picture but you can see that they're roasted. And we're partial to the plate pile. There's a little mixing but not too much plus the carbs stay hot. Yes, yes I know but it's Saturday.
I live 60 miles south in Boston and despite all the time I've been there, Portsmouth is new for me. There's creative food and imaginative shopping, without the chains, along with the quaint you expect to find in an old New England port. It turns out Roseanna's turf is more than a popular tourist destination, though they're around. Bow Street, where Surf sits, is part of the Market Square development that's attracted independent retailers, local coffee and enough variety when it comes to food. You're looking at a working port with tugboats, industrial fittings, scrap metal loading and the bridge to Maine. Shore living does have its benefits when it comes to fish and beaches too, though there are no beaches right here and no surfers either.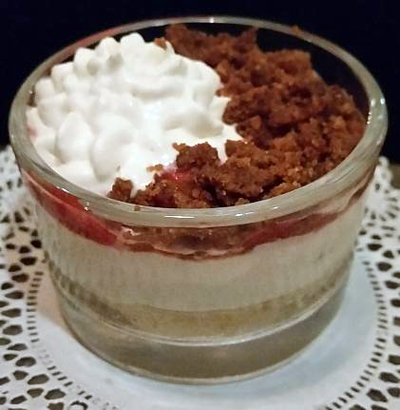 Laura brings an epic New Zealand Matua Sauvignon Blanc which they tell us, Matua that is, is award winning. We're partial to these wines. Too bad Surf is not showing their wines online. Anyway, all the food is listed and includes a raw bar with tequila oysters and sake shooters, New England seafood dinners with shrimp and scallops, steaks, lobster rolls, surf tacos, Portuguese seafood stew and ceviche.
For dessert, tonight's special is Key lime mousse lemon cake with raspberry coulis and graham crust. There's a lot going on and off: crunchy, creamy and tart with sugar, egg yolks, condensed milk and three spoons. Really, what's not to like? A couple of frothy cappucinos are rounding it out. This party wave is just about over. We like places where friendly service matches the food. Outside, the street performers are warming up. And luckily for us, no men in grey suits.

Surf Restaurant
99 Bow St
Portsmouth, NH 03801
603. 334. 9855
© Photos by Roseanna Spizzirri. Kitty Kaufman is a writer living in Boston. See more of their adventures at Corporate Edge and follow Kitty Kaufman on Twitter