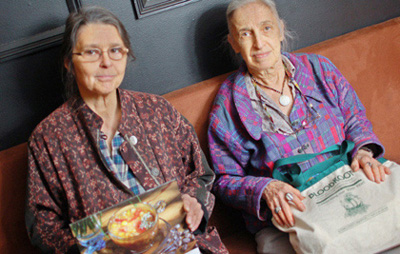 Restaurants aren't supposed to be real. Real you can get at home. Restaurants are for fantasy of one kind or another. A shot-and-beer bar with sawdust on the floor can fulfill a fantasy or bolster an ego as well as an elegant French dinner with all the trimmings. It just depends on who you want to pretend to be at the moment.
All this comes to mind because Jill and I went to a restaurant that belies everything I just said. There's not a drop of fantasy in the package. It's simply what it is and it does what it does and it's been doing it at the same location for thirty-six years.
Bloodroot is a self described vegan/vegetarian/feminist restaurant that was created all those years ago by Selma Miriam and Noel Furie. Selma runs the kitchen and Noel holds down the front of the house. They've perfected their act and they do it exactly the way they want to do it. Your fantasies are not the issue.
When you walk in, Noel instructs you to look at the menu listed on the wall. You tell her your choices and pay up front.
"They'll call out your name when your food is ready and then you get yourself a tray and carry it to your table."
"Can I get a glass of wine?"
"Of course. Here's the list."
I chose a Malbec, which I find a safer bet when buying by the glass. Often Pinots or Sangioveses that have been bought for the cheap pour can taste a bit like lighter fluid. But Malbec, which is inexpensive to begin with, can be a nice glassful.
"A server will bring the wine to your table," says Noel.
Aha, I thought, wine gets special treatment in Selma and Noel's rulebook. Unlike your dinner, which you have to schlep yourself so that no self-respecting feminist has to put herself in a servile position, the wine is brought to you while you're sitting comfortably in your chair — in vino servitas.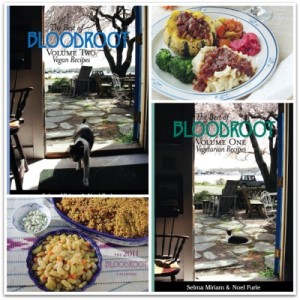 We've experienced a similar political statement in Slow Food restaurants in Italy. Slow Food is a movement more than a style of food. It's the brainchild of some Italian Communist foodies from the Piemonte.
"We're all in this together," is the theme of the day.
The food at Bloodroot is good. Quite good. Selma and Noel have written two excellent cookbooks; they've traveled the world for new recipes and they've honed their act.
We each had a salad, which were both splendid — filled with fresh greens and veg. Mine was called "Caesar's Wife" and I was crazy about her. There's nothing that beats lettuce fresh out of the ground.
Then Jill had the pasta with tomato, artichoke heart and shitakes and I got risotto with broccoli rabe and caponata. After a bite or two we switched — mostly because my risotto was made with brown rice, which Jill takes to a lot more than I do.
Because of the cats, we asked them if we could move outside. Jill's allergic. We were the only customers out there and we had a view of the pleasant blue-collar neighborhood, which looks out over the water. The scene outside was as unique the one inside. Noel came out and chatted for a while at the end of the meal.
BLOODROOT: 85 Ferris St Bridgeport, CT 06605 - (203) 576-9168
Michael Tucker is an actor and author whose recent novel is "After Annie
." He writes about his love of food on his blog Notes from a Culinary Wasteland.