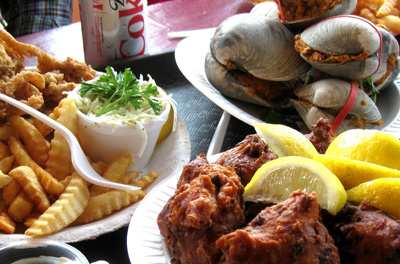 If you've come to the area to enjoy great food, there's more to Rhode Island than just Providence. Hop in your car and head south. Everywhere you go, you'll be rewarded with wonderful meals in beautiful settings. During the summer, stopping at a clam shack when you're at the beach is a guilty pleasure not to be denied. In the coastal towns ringing Narragansett Bay and Block Island Sound, you'll find plenty of opportunities to eat yourself silly.
If you're in Newport, try Flo's Clam Shack across the street from First Beach (4 WaveAvenue, Middletown, 401/847-8141) or better yet head up to Bristol a few miles north and stop at Quito's Seafood Restaurant (411 Thames Street, Bristol, 401/253-4500) where chef Frank Formisano and his mom, Joann, serve up clam strips, fish and chips, fried calamari, lobster rolls, fluffy and light clam cakes, sandwiches with fried fish, clams, shrimp, crab, or scallops, fried oysters, raw clams and oysters, baked clams, casseroles with fish, shrimp, lobster or scallops, French fries, hot dogs, hamburgers, Cole slaw, and clam chowder--red, white, and, because this is Rhode Island, clear as well.
This being Rhode Island, even food at the shore is touched by Italian traditions. At Quito's, the red sauce is homemade from Joann's Sicilian recipe. Littlenecks can be enjoyed raw, steamed with garlic and oil, steamed in a Zuppa sauce (tomatoes and garlic), served over pasta, or in a scampi sauce. One piece of advice, if you're offered a choice of French fries or Cole slaw, go for the slaw. I ordered a double portion, it's that good. Since Quito's is on the bike path, you can take a leisurely walk or bicycle around Bristol Harbor to work off the calories.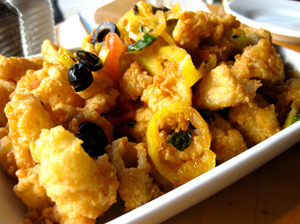 Across Narragansett Bay in South County most of the towns hug the coast. Head inland and the area is home to farms, roadside stands, and wildlife refuges. Stay on Route 1 south of Providence and you'll drive through undistinguished towns, but keep your eye out and you'll discover some gems.

East Greenwich has a main street out of a postcard. You half expect to see 1930s Fords and Chevys pulling up in front of the hardware store. The kid friendly Grille on Main (50 Main Street, East Greenwhich, 401/885-2200) is a good place to stop for grilled pizza--now a Rhode Island staple originally popularized by Al Forno in Providence--or the calamari, either crispy or spicy hot with a soy-arrabiata sauce.
Keep driving a half dozen miles south on Route 1 and you'll slip even farther back in time when you take the turn off into historic Old Wickford, a town important during the Colonial-Post Revolutionary period. Contact the wonderfully entertaining Tim Cranston (This email address is being protected from spambots. You need JavaScript enabled to view it.) and he'll give you a walking tour of the town. You'll hear great stories about lives lost, loves found, and history made.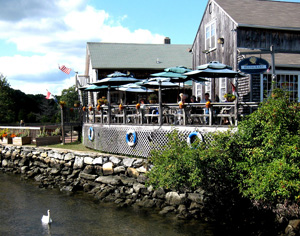 When you've finished your walk, stop for refreshment at Tavern by the Sea (16 West Main Street, Old Wickford, 401/294-4771), which is actually located on the edge of a picture-perfect pond, complete with white swans and flocks of ducks. Sit outside on the deck with a glass of Ginger Mimosa when it's warm, or, when it's cool, upstairs in the slanted-roof dining room, and feast on bistro food Rhode Island style: stuffed quahogs, mussels in white wine sauce, French onion soup, calamari both ways like the Grille on Main, fat crab cakes that don't skimp on the crab, and excellent Cole slaw. If they're serving slices of Lemon and Berries Mascarpone Cheese Cake, leave room for dessert.
If you want to cook your own seafood, walk over to the retail store at Gardner's Wharf Seafood (170 Main Street, Wickford, 401/295-4600) where they sell the lobsters, oysters, mussels, clams, and fish caught that day.
An insider note: if you're using a GPS to guide your travels, you won't find "Wickford" listed. You'll have to call the town, "North Kingston," even though the locals don't.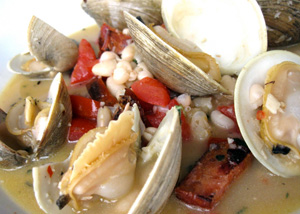 The oysters and clams from Rhode Island deserve to be better known. Everyone has eaten bivalves from Long Island, Connecticut and Maine, but if you want a treat, drive west on Route 1/1A past Snug Harbor, then go south on Succotash Road and eat at the Matunuck Oyster Bar (629 Succotash Road, East Matunuck, 401/783-4202).
When owner Perry Raso has time, he'll take you in a skiff for a tour of nearby Potter Pond where he farms the oysters and clams he serves at the restaurant. His oysters and clams are delicious: sweet, briny, and plump. While you're eating a dozen shucked littlenecks on the deck overlooking the estuary or inside the cozy dining room, you can watch the ducks float by as Springsteen plays on the speaker system. The menu offers classic favorites like lobster rolls, boiled or stuffed lobsters, oysters Rockefeller, steamers, cod cakes, fried oysters, a variety of chowders, but there is also a superb dish made with pan-roasted littlenecks and grilled chorizo with white beans and tomatoes. To add turf to all that surf, there are cheeseburgers, grilled ribeye steaks, and baby back ribs in a bourbon bbq sauce with corn bread.
If you're in Watch Hill and it's late in the day, there's a 99% chance you're sitting on the patio of the Olympia Tea Room (74 Bay Street, Watch Hill, 401/348-8211) watching the magic of a sunset.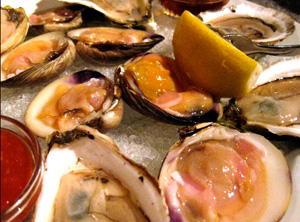 Locals like to say that Watch Hill has all the comforts and advantages of Newport without the crowds. The Olympia Tea Room exemplifies what's best about Watch Hill. A long bar takes up one side of the room with dark wood dividers cutting across the dining room, creating romantic intimacy for those who like some privacy with their chardonnay and raw oysters.

Like many restaurants in Rhode Island, the Olympia Tea Room prides itself on supporting local food purveyors. The oysters, clams, scallops, scrod, haddock, sausages, and as much of the produce as the season permits are locally sourced. The menu offers a good assortment of familiar comfort food: ravioli with sage butter, veal stroganoff, grilled lamb chops, spinach salad, Caesar salad, oysters and clams on the half shell, fish and chips, pork chops, steak frite, lamb shank, roast chicken with a mustard glaze, and pasta about any way you'd want--with fresh vegetables, lobster, bolognese, panchetta, sausages and meatballs, or clams. Once you've had your fill of all that good food, take the time to sit outside again for a cup of coffee and enjoy the cool evening breeze coming off Little Narragansett Bay.
If you're on your way to Block Island or you're taking a leisurelydrive on scenic Route 1A, you can stop at Champlin's (256 Great island Road, 401/783-3152) in Point Judith. Head upstairs over the fish market, order your food, and find a good spot on the deck overlooking the harbor where the fishing boats and the Block Island ferries dock. The lobster roll is first rate, as are the fries and clam chowder.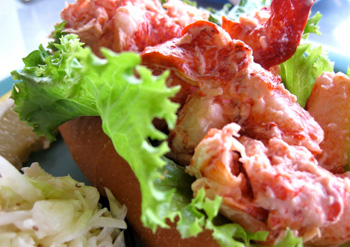 For those with a little more time to spare, Block Island is a short ferry ride from Point Judith. Sparsely populated, with more than 50% of the island set aside as nature preserves, Block Island is a rare treat, a place to slow down and enjoy some quiet time reading, talking, walking, eating or just sitting and taking in the magnificent views. The communities that surround Old and New Harbor have hotels, bed and breakfast inns, and restaurants that cater to both locals and tourists from the mainland.
Overlooking New Harbor, The Oar (221 Jobs Hill Road, New Harbor, Block Island, 401/466-8820) has a bar famous for, yes, you guessed it, autographed oars that cover the walls and ceilings. The restaurant has an open air dining room facing the pleasure craft tied up to the docks. Relaxing with an ice cold beer or glass of wine, watching the sea gulls pass by overhead, it's easy to fool yourself that you're in a tropical paradise but then the waitress brings you your lobster roll with fries and Cole slaw and you know for sure you're in Rhode Island.
David Latt is an Emmy-award winning television producer who turns to cooking to alleviate stress. He shares his experiences with food and his favorite recipes on his blog Men Who Like To Cook.