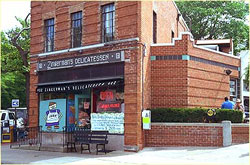 I have a vivid memory of my parents entertaining friends on Christmas Eve in 1982. My mother threw all of her Protestant tradition out the kitchen window and ordered Zingerman's pastrami on rye sandwiches with giant garlic pickles. I was enthralled by this rebellion at age six, although I had no understanding of what pastrami was. I just knew it was special.
The ingenious ingredients and thoughtful, bountiful preparation is half of the magic pf the pastrami sandwich. The other half is the Zingerman's magic, the palpable feeling of community provided by the owners, Paul Saginaw and Ari Weinzweig, who instill in all of their endeavors a familial rhapsody. (I have dined at the Roadhouse and had Ari come to the table to fill up my water glass more than a few times…enough said). In a town high on intellect, Zingerman's employment is looked upon as social cache (or junior college).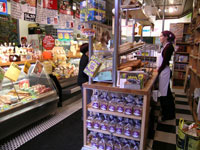 If you are new to Ann Arbor and you're wondering what you must experience, the answer is Zingerman's. If you're a local with a party that needs catering, a celebration destination, or a date who is deemed worthy of a $12 sandwich, the answer is Zingerman's.
What began as a modest Jewish deli in 1982 has blossomed into a national brand complete with their own bakehouse, coffee, catering, creamery, training seminars, mail order catalogs and Zingerman's Roadhouse; a full service restaurant.
Decision making and Zingerman's are paradoxical to say the least. Therefore, I cannot recommend the deli over the Roadhouse or vice versa. I can only give you the following synopses:
Zingerman's Deli
The original

Tiny

Packed with gorgeous oils, vinegars, cheeses, smoked fish and meats, coffees and teas you have never heard of and have always wanted

Packed with hungry people

Counter ordering

A couple of must try's:

The Ferber Experience-Niman Ranch pastrami, scallion cream cheese & fresh leaf lettuce on pumpernickel bread

Dave's Open Road-Grilled Amish chicken breast, applewood-smoked bacon, Wisconsin muenster cheese, Zingerman's ranch dressing & lettuce on grilled challah bread
Zingerman's Roadhouse
Sit down service

Hear yourself think (this can most certainly be a privilege in the deli but not necessarily a right)

Enjoy the indulgent and thoughtful fare in full courses

Reservations are welcomed

A couple of must try's:

Buttermilk fried chicken -(my California-born husband cannot leave Ann Arbor without consuming it)

Goat cheese & New Mexico fire roasted green Chili burger with Zingerman's own goat cheese
I didn't even get started with the desserts, most of which are made from scratch in either the bakehouse or the creamery. Are you there yet?
Zingerman's Delicatessen
422 Detroit St.
Ann Arbor, MI 48104
734.663.DELI
Open everyday 7am to 10pm