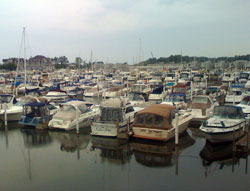 On our recent trip to Chicago, my husband and I found ourselves fairly secluded from the outside world as we cared for my aging father-in-law while my mother-in-law got a much needed vacation. With only one day to ourselves – thanks to the brief appearance of his brothers – we decided to meet up with some friends on the shore of Lake Michigan, in Michigan. It would have been easier to hook-up on the Chi-town side of the water (they only live 20 minutes away from my in-laws), but since they were off boating there, we like to road-trip and I had never been to Michigan, we tentatively agreed to meet in a small town on the lake called New Buffalo.

Spontaneous is a word rarely attributed to me, especially when I travel. The advent of the Internet has been a godsend to my obssesive need to pre-plan and find exactly the right place to go before I leave my living room. Sure, I might miss the best local "whatever" that just opened yesterday or is too obscure to be on the web because of my control-freak nature, but I'm too old and particular to leave lunch to chance. If I'm going to make the effort and take the time, I want better than even odds that I'll enjoy the excursion.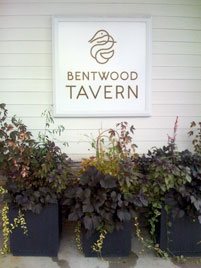 The minute I knew we were officially headed to New Buffalo, I hopped on Google and started trolling the local websites. The options were generally underwhelming. Mostly fast food or dingy burger joints/pubs. I love a good burger as much as the next non-vegan, but none of the places were anywhere near the water, so, they were immediately discounted. Then, I found the website for the Bentwood Tavern. Liked the name, the location was perfect with a lovely outdoor patio overlooking the harbor and the menu was exactly what I was looking for. Healthy pub-type fare at a decent price.

I sent the name to our friends to see if they knew it. Turns out, they were quite familiar with the place. Mainly because they own a condo directly above it. Of all the gin joints...

The Bentwood Tavern is part of the Marina Grand Resort, a fairly new development in the area. Tired of hauling their boat back and forth from Lake Zurich, Illinois (about a 2-hour drive and a million dollars worth of gas), our friends decided to park their boat in the marina behind the resort and purchase a little weekend place at this upscale resort, which is small but with every neccesary amenity.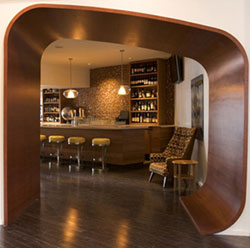 Of course, our dream of eating with a view of the water was shattered by passing showers, but coming from Los Angeles where it almost never rains, the storm made the day much more interesting. While the outside of the resort is classic lake architecture (white clapboard), the inside has a more modern, Scandinavian flair. The Tavern was classy without being stuffy, whites, browns and blues with comfortable tables and booths.

Our waiter, a young 19-year-old kid, was a bit out of his element – it seemed like his first day or two – but he made up for his lack of experience with energy and quite a few heartfelt apologies. He wasn't old enough to legally drink, so, he was a bit confused when he tried to upsell their summer beer tasting special which he said was 5 beers for $4. After the 2-hour drive, Dave was up for trying a few of the local brews and told him to bring it on. We were quite shocked when our waiter arrived not with 5 small glasses filled with "tastes" of beers like we had expected, but a bucket of ice in which were five full bottles. Thankfully, he hadn't opened them. (Had Dave's four
brothers been along this dilemma would have been quickly resolved and another bucket
immediately ordered.) Since we had a lot of driving yet to do and the rest of us aren't really beer drinkers, Dave had to settle for just one bottle. It was a lesson in clarity that made us all laugh out loud.

Once we got our food, we were pretty happy. (Even though I had ordered the tuna salad plate, our adorable waiter brought me the chicken salad.) Since I had secretly wanted the chicken salad but decided to be "healthier" and order the tuna – I ate the mistake. He was more than a bit relieved. The lunch menu is mainly made up of salads, sandwiches, burgers and handmade, brick-oven pizzas. They had a $10 special that included one of three entrees, a non-alcoholic beverage and gratuity, which is a pretty damn good price in any state. Especially for the quality of the food. The burger was excellent and the fries perfectly cooked and seasoned. I stole more than a few. I expected my meal to be more of a salad, than a salad plate, but it was still really good and just what I needed. The three previous days of eating in Chicago where everything is big and meaty
were starting to wear me down.
| | |
| --- | --- |
| | |
Fortunately, the main goal – good food shared with good friends – was amply accomplished. It was just the respite we needed to help us get through the rest of our "vacation."
Bentwood Tavern
Marina Grand Resort
600 West Water Street
New Buffalo, MI 49117
Lisa Dinsmore is a writer and web programmer. She has her own wine blog called Daily Wine Dispatch. She lives with her husband Dave in Los Angeles.