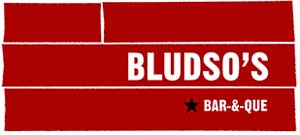 This is like an April Fool's Day joke; a BBQ joint write up by a vegetarian! There is a method to this madness. After all there's more than one way to come at anything!
Here's the theory; there are a lot of men out there who love BBQ. It's such a manly man food. A lot of those manly men have wives, girlfriends, partners who are vegetarians. This makes going out to BBQ with their loved one difficult. Probably an adventure saved for boy's night out. You know, after playing poker, shooting hoops, or screaming at TV skirmishes, they go grab a few ribs and some beers.
Ladies. I'm taking a page out of my book and handing it right to you. Want to make your hungry he-man happy, take him to Bludso's BBQ and Bar on La Brea where you both will eat well and be happy. There probably won't be any romance that night because he will be stuffed like the pig he just ate, but he will fall asleep with a bloated smile on his face and you will have won several gold stars! (To be cashed in later for jewelry, an i-pad, a weekend away with (or without) him or whatever your need might be at the moment.)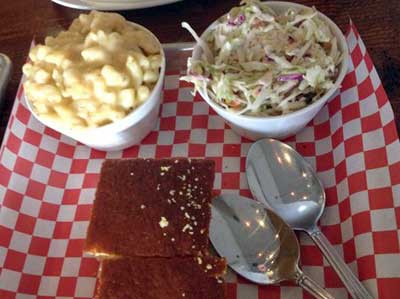 So I tell my husband I'm taking us out for a treat, promising that he'll love it. We could smell the smoke from blocks away. The closer we got the more his nostrils twitched. Were those beads of water at each corner of his mouth? Salivating…was my guy, salivating the way our Lab does watching me mix his food every morning? Yes he was! And we hadn't even parked the car!
Mac n'cheese, coleslaw, and cornbread make a perfect vegetarian dinner and a divine dinner at that. It's a given by now that we ladies have been making dinner out of side dishes for years. The mac n' cheese is yummy. It's not like the mac n' cheese that's worth a trip to NYC because it comes in its own cute caste iron pan and is perfectly burnt on the top, arriving bubbling yellow and crisp. That mac n' cheese is on 3rd Ave and 10th Street and served at a noisy place called Smiths that has excellent down home food. Nothing compares.
For not being Smiths, Bludso's was darn good: creamy and great reheated for the next few days. But the cole slaw, I have to say, is amazing. How's that for off the charts? I'd go back for that alone. Not a big connoisseur of cole slaw, although I was no stranger to it, growing up in New York City, Deli Land USA, as I did. I know a good from a great cole slaw and this Bluso's has a great one. It's spicy but not too spicy, and perfectly creamy. It's all the vegetable and salad one needs and along with the pasta dairy business and then the corn bread on the side, you've got a balanced meal.
Okay, it is a little carb heavy but most of us prefer that. At the end of a long day why not live a little and be carb indulgent. Just don't be a pig like the guy across from you whose face is now maroon. He doesn't care that he's dripping sauce from his cheeks and chin. He's in heaven and couldn't be more adoring of his mate.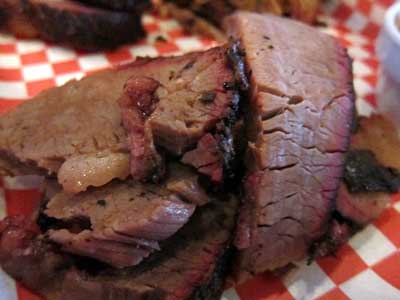 My husband ordered the mixture of the brisket and half chicken that came with sides. I ate two of his, the mac n' cheese and the corn bread, he wanted his own slaw being a lover of all things mayonnaise. He was very happy and happier still when he found out he should ask for the brisket lean the next time as he prefers it that way. Which he will because there will most defiantly be a next time soon.
We had heard that the two owners of the wildly successful and delicious hamburger hole in the wall, Golden State, James Starr and Jason Bernstein, had become obsessed with a BBQ stand in Compton. One would think these novice restaurateurs would be content with lines halfway down Fairfax to get at their award winning burgers. Unlike most vegetarians who come face to face with a big blood dripping burger, I bite instead of run, so I know firsthand why the snaking line! I was raised a Catholic and we love to sin and repent...I eat nothing but greens after sinning my way through a lamb burger at Golden State every few months.
The Texas BBQ maven, Kevin Bludso, was cooking up his family's BBQ recipe and smoking meat in a place no bigger than a taco stand down in Compton when the boys fell in love with the BBQ he brought to LA after five generations of Bludso's back in Texas. After talking with Kevin they fell in love with this fun loving and happy yogi bear of a guy, too!
Watching him on video, I thought who wouldn't want to hop on two freeways, ride alongside ten ton trucks in heinous traffic just to chat with him and eat his yummy food. The burger boys just couldn't stay away because Kevin Bludso is the Bomb. The real deal. After befriending him they partnered up with him, sent their kitchen manager, to Compton to apprentice under him for a year, and then found a spot on La Brea. Driving down to Compton working in a smoke filled stand no bigger than a tool shed 365, is a commitment to authenticity that rates a few gold stars on its own. Shout out to Noah Galuten!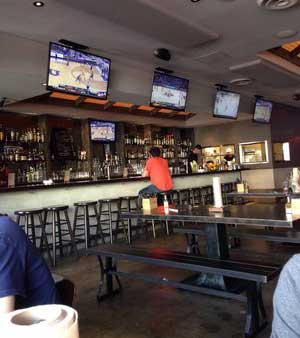 James and Jason have indeed brought Kevin Bludso uptown although with a down home feeling with red booths and long communal picnic style tables and benches. It's a big open space with a good bar and several large flat screen TV's for watching sports. That was their idea, to make it homey, no fuss- no muss, where their pals could come in have a drink and some ribs at the bar and watch a game or two. Done. And done well! Even with their limited menu, it's a place where veggies and semi - veggies like me can dine with our guys and not feel deprived.
I was going to see if I could write this piece without bringing that tired and I do think old adage up, "The Way to a Guys Heart is through his Stomach... blah blah blah," but the trek to Bludso's confirmed my suspicion that it is indeed true. An hour at this BBQ place is probably worth 5 or 6 therapy sessions for most couples. I'm here to testify. Your man will be happy, content, and grateful, not to mention down right full for days!
Imagine such love, sweetness, and devotion, and having gotten that double dose of carbs and that divine slaw, just for wanting to do for him. No wonder all the good books tell us to do for others!
Bludso's Bar and Que
609 N. La Brea LA, 90036
(323) 931-2583