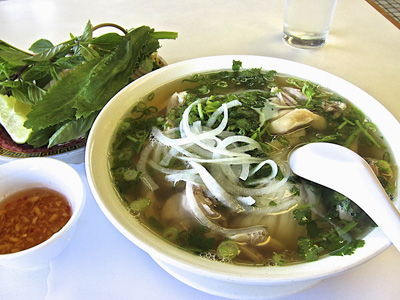 Certain foods cause people to become rhapsodic. Proust had his madeleines. I have pho ga. At Pho Vinh Ky, the large bowl of chicken soup and rice noodles arrives with a plate of fresh herbs and vegetables and a small bowl of dipping sauce.
Traditionally, the herbs and vegetables are added to the broth. Rau ram, ngo gai, bean sprouts, mint, Thai basil, purple perilla, a lime wedge and thick slices of serrano peppers add brightness to the flavors. I love the dipping sauce, nuoc cham gung, a mix of lime juice, dried pepper flakes, finely chopped fresh ginger and fish sauce. Everyone has their own way to eat pho. Mine is to eat the noodles first. Each spoonful flavored by the pungent, hot, salty dipping sauce.
If you haven't eaten Vietnamese food, you have missed out on one of the great Asian cuisines. Known primarily for their noodle soups, plates of barbecued meats piled high on mounds of broken rice or served in a bowl with vermicelli noodles and stir fries spiced with lemon grass, Vietnamese food has spread into the wider culinary community because of the popularity of pho (hot beef and chicken soups with noodles) and banh mi (crusty baguettes with spicy meats and pickled vegetables). With several large Vietnamese communities around the country, we are lucky to live close to Little Saigon in Orange County.
A trip to Little Saigon begins at Pho Vinh Ky with a large bowl of pho ga (chicken soup with noodles), only dark meat, and a Vietnamese coffee with milk. Arriving early in the morning, the restaurant is cold and mostly empty. The large window faces a small parking lot bordering busy Westminister Boulevard. A dozen Vietnamese men and women are also eating pho. Their heads bent low over the steaming bowls, chop sticks in one hand, a Chinese soup spoon in the other, they eat the more familiar, beef version of pho.
Because we live an hour away from Garden Grove and Westminster, the epicenter of Orange County's Vietnamese community, instead of eating several dishes at one restaurant, I'll eat one dish at each of my favorite restaurants, taking home what I don't finish and moving on to the next one. If you hadn't guessed, that means I bring freezer packs and a small cooler for take-away because the left overs are delicious for next day-breakfast and lunch.
In between meals, I'll hunt out the best bargains at the local supermarkets.
Here is the list of places I love going to in Little Saigon. Hope you have an afternoon to explore the area. A few weeks ago, I brought home two live Dungeness crabs from ABC (see below: a supermarket on Bolsa at Magnolia) for $5.99/lb. The shiitake mushrooms were also a bargain at $4.79/lb.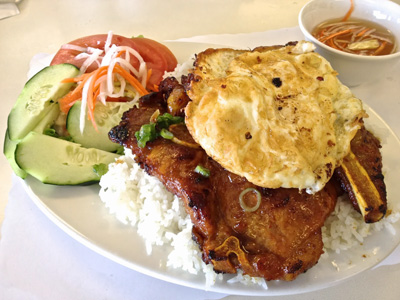 RESTAURANTS:
Many of the restaurants only take cash. Most of them open for breakfast and stay open until late (which can mean 7:30am - 11:00pm; but often it means 10am - 10pm).
Pho Vinh Ky
8512 Westminster Blvd, Suite F, Westminister 92683 (714/894-9309). Opens 7:30am. Next to the Stater Brothers' Market, west of Magnolia, east of Beach (Beach Blvd Exit on the Garden Grove/22 Fwy).
Pho Ga: dark meat only (large)
#1Spring Rolls, shrimp
#35: Vermicelli, BBQ pork
#36:Vermicelli, shrimp
#40: Broken rice, pork chop (fried egg on top)
Grand Chicken Rice Restaurant
9550 Bolsa Aven (Suite 11E-1), Westminister 714/531-7788; Sun-Thurs 10am-11pm; Fri-Sat 10am-Midnight
Really good egg noodles with chicken and/or tofu
#5, #13 chix #10 lemon grass, & # 18 veggie
The portions are small but the lemon grass chicken is spicy, crispy and delicious.
A dozen other restaurants share the parking lot including a Chinese dim sum take out restaurant Dim Sum, Giai Phat Food Co. 9550 Bolsa Ave. #123, 124, Westminster, CA 92683. Very inexpensive and well-made.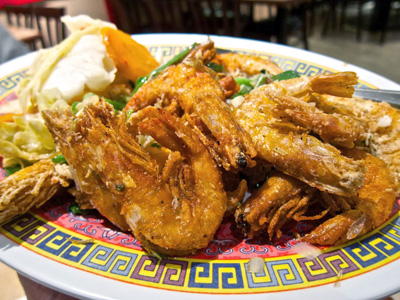 Dong Khanh
10451 Bolsa Avenue, Westminister (92683) 949/839-1014
Weekdays they have great lunch specials. Delicious lemon grass chicken, fried shrimp (head on, in the shell) with pickled cabbage and carrots, crispy noodles, lots of good things. Very good iced Vietnamese coffee with milk.
Hanoi
9082 Bolsa Avenue
Westminister CA 92683
Delicious sizzling catfish (deboned) with fresh dill and caramelized onions; also great vermicelli with barbecue pork; fried shrimp with sweet potato fries is a signature dish; pork chops with broken rice are also very good.
Sharing the parking lot are a number of other restaurants and a French-Vietnamese bakery/restaurant called Le Croissant Dore with good Vietnamese style French pastries and a bœuf bourguignon that's spicy with heat served with a baguette.
9122 Bolsa Ave, Westminster, CA 92683 (714) 895-3070
lecroissantdore.com
MARKETS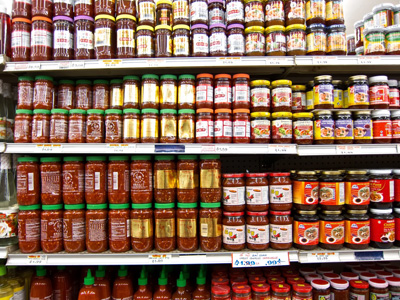 There are a great many supermarkets in Little Saigon as well as Korean Markets in Garden Grove. Each one is different although they all carry many of the same products. The prices are also pretty much the same, but there are notable differences between them.
MOM Supermarket, 5111 W. Edinger Avenue (the entrance is on Euclid) Santa Ana 92704. 714/839-3939; I usually go here first because their shiitake mushrooms can be cheaper; they have a good fish market but while they have live seafood, the prices are better at ABC; they have a fantastic dried and fresh noodle area and great selection of Asian sauces.
ABC Supermarket
8970 Bolsa Avenue, Westminster 92683 (714/379-6161), at Magnolia
Great for live lobsters (usually $6.99-$7.99/lb) they sell out fast; and live Dungeness crab ($3.99-5.99/lb), shiitake mushrooms, fresh produce, onions, garlic; fresh chicken and pork, canned goods and dried (and fresh) noodles.
Sharing the parking lot with ABC are a dozen other businesses, some restaurants, some bakeries. Bolsa BBQ has great whole pig and duck bbq and yummy bao with hardboiled egg & pork.
Dalat Supermarket (13075 Euclid Street, Garden Grove 92843, 714/638-9900) at the intersection of Garden Grove Blvd & the 22
Good prices on meat & poultry & lychees. The majority of dried noodles sold in Asian markets use lye. One of the few companies to avoid using lye in their noodles is found at Dalat: Twin Rabbit Vegetarian Noodles (Mi Chay Soi Lon) Product of Vietnam - dried wheat noodles: $1.19.
David Latt is an Emmy-award winning television producer who turns to cooking to alleviate stress. He shares his experiences with food and his favorite recipes on his blog Men Who Like To Cook.