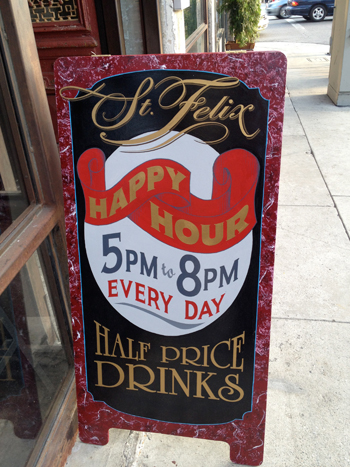 I don't know who invented the concept of Happy Hour and I really don't care. I'm sure it isn't necessarily a good thing that it's my favorite time of day, but I just can't think about those two words together without smiling. They conjure up images of meeting friends at the day's end but before the night closes in to share your latest news and perhaps a few troubles over a quick glass of something heady and a few indulgent nibbles. Since I live via my own "Cinderella Theory" – that nothing good happens after Midnight outside the home – I like to start when the night is young and trouble isn't even a glimpse on the horizon. It's also the time when most restaurants are fairly empty and the music is low enough you can actually hear your companions. Plus, you get your drinks and food at half price. A win-win-win.

My latest Happy find took a bit of work, but was well worth the search. We had an event at the Pantages Theater and were going to take the Metro to Hollywood to avoid the post-work traffic snarl. While this area is filled with bars, it was harder to find a decent pre-screening drink than I anticipated. Sure there was going to be a post-party but eating at 9:30pm is just not an option for us. We are Early Bird people all the way, preparing for our old age three decades in advance. I was initially intrigued by both Wood & Vine (they had the best wine list) and Blue Palms Brewhouse (can you say Truffle Burger?) because they wouldn't require much walking; however, neither of them opened until 6pm. A problem. I guess Wood & Vine has a Happy Hour but it's from 10pm-2am. Not gonna happen due to the rule stated above.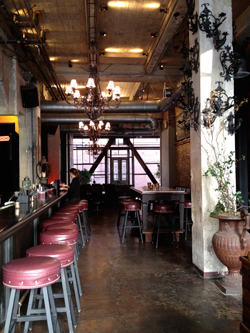 Forced to keep looking, I stumbled upon the Saint Felix. Open at 5pm? Check. Within walking distance of the Pantages? Yes. A little further than I had wanted – it's on Cahuenga a block south of Hollywood Blvd. – but a little exercise never hurts. Cheap food and drinks? Don't think you can go wrong with $5 nibbles and half price cocktails. So, off we went. The small storefront does not do the inside justice. The place was expansive and decorated with dark wood, brick and intricate iron work. There are comfy, semi-private booths on one side and a big, long wood bar along the other. At the far end of the space is an outdoor patio with comfy tables and palm trees.
We could see where the vibe would be going in a few hours, but it's was casual and fairly quiet when we entered with the music at a comfortable chatting volume. There to help cast a mood, but not intrusive. A touch of whimsy came from the videos playing on the TV above the bar. Apparently the odd mix of clips from obscure, late 70s films (like Rock 'n' Roll High School, The Warriors) and music videos was put together by one of the owners. It was an eclectic mix that kept us highly amused at the early career paths of some Hollywood actors and glad we were too young to have been forced to dress like them.

Their wine list is a bit limited for someone like me, but that just gave me the chance to try a cocktail, which I do imbibe in from time to time. (They are known for their infused vodkas and wide selection of hard liquors). I wanted to try the Saint Felix Cocktail, a mix of Champagne, soda, blueberries, raspberries and St. Germain, but it only came by the carafe and the Man is not a sweet drink fan. So I opted for the Sangria. It's apparently the owner's grandmother's recipe and it comes just like she used to serve it - in a Mason jar. Some versions can be too sweet, but this one was more like wine with a kick. Could have drunk a whole pitcher, no problem. The Man went for the Pear Manhattan. He was a bit concerned the pear-flavored vodka and sweet vermouth would overwhelm the Bourbon, but it was a well-crafted drink that merely took the sting out, the flavors uniting in a mellow and smooth way. I usually stay away from brown liquor, but I could have enjoyed a whole glass myself.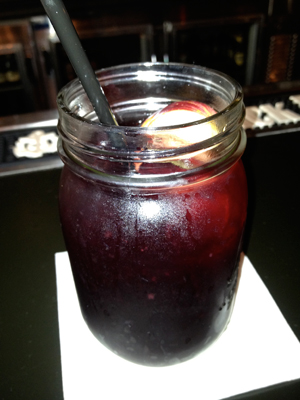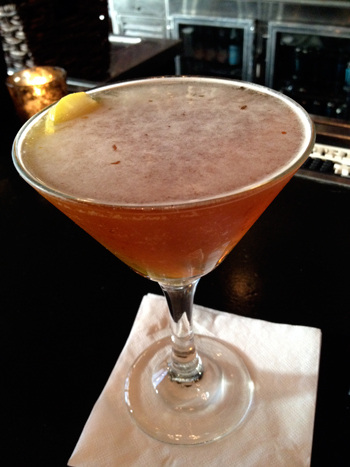 The food was equally good. Not what one would call overly inspired, but better than the usual fried bar fare. We ordered the Cubano Tacos to share – braised pork with pickled pepper relish, avocado creme, salsa roja, cabbage and gouda – which were 2 for $5 and each got a Kobe Slider with Sweet Potato Fries, also for $5. Both were really good for the price. The taco had a nice mix of flavors without being too spicy and the burger was moist, the bun soft and the fries crispy, something I yet to accomplish myself. It was also just the right amount of food. There were a few other items on the Happy Hour menu, but this was all we needed.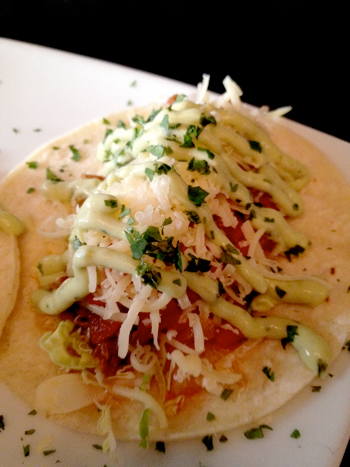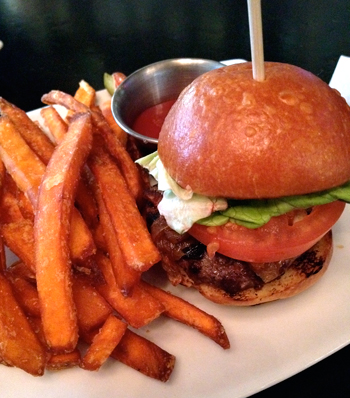 This is the second location, the first is in West Hollywood. I would assume a fairly similar physical vibe, but am pretty confident the clientele is more hipster here. Though mostly the patrons at this hour where professionals seemingly on their way home from a day's work. The cool kids would arrive later. Which is just fine with me. They can have the Witching Hour, as long as they leave the Happy one to me.

Saint Felix
1602 North Cahuenga Blvd. Hollywood, CA 90028 / Phone: (323) 469-5001
5pm-2am Daily
Lisa Dinsmore is a writer, web programmer, movie and wine lover. She currently runs two review websites to share her passions: www.crazy4cinema.com and www.dailywinedispatch.com. She is also the Managing Editor of One for the Table.