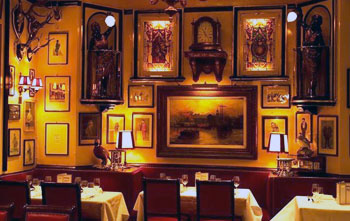 Rules is the oldest restaurant in London. Situated in Maiden Lane, Covent Garden, this eaterie is simply splendid not only for the food but also its history and the pictorial passing of time adorning the walls. Open midday to midnight seven days a week, you can choose to sit where such famous beings as Charles Dickens, William Makepeace, Thackeray, John Galsworthy and H.G. Wells quaffed their wine and filled their bellies with rich cuts of Rib, racks of Lamb, Pies and Oysters. Rules has also appeared in novels by Rosamond Lehmann, Evelyn Waugh, Graham Green, John Le Carre and Dick Francis.
The walls are covered with signed cartoons, drawings and paintings for after all the entertainment world gathered at Rules, from Henry Irving to Laurence Olivier and the history of the London stage is on view. Charles Laughton, Clark Gable, Charlie Chaplin and other notables from the art of cinema frequented this quintessential British surround. But the piece de resistance is the King Edward V11 Room, where the Prince of Wales wined and dined the beautiful actress Lillie Langtry.

Today the menu is pretty much the same. Huge portions of Scottish Prime Rib with wedges of delicious Yorkshire pudding find their way to most tables although other cuts of steak are served. Starters like Stilton and Celeriac soup flavoured with Truffle-rich and filling! smoked Scottish salmon, Foi Gras and Duck with Sauternes Jelly or Morecambe Bay Potted Shrimps with wholemeal toast. Puddings are wildly English Treacle Sponge with Custard, Baked Banana with caramelized Bananas and Butterscotch and Sticky Toffee with Butterscotch and Vanilla Custard- all so yummy. Champagne goes well with rich food and there is a choice list of fine wines and malt whiskies to choose from.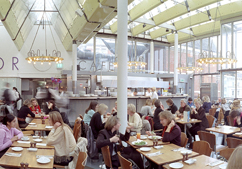 My other favorite spot is the 5th floor Café in Harvey Nichols whose menu changes about 4 times a day according to breakfast, elevensies, lunch and dinner. Such delicacies as San Danielle ham with rocket and Parmesan shavings, Grilled Mackerel fillet with beetroot pesto, cucumber and cumin salad and Pan roasted scallops with celeriac puree and warm wholegrain mustard vinaigrette. For afters, White chocolate raspberry cheesecake or an Orange and Cointreau frozen parfait with passion fruit sorbet are both creative and delicious. Classic teas, varied coffees and French wines by the glass or bottle are on hand. The Café also serves Sushi and being on the floor where the food store is located, I recommend you walk around and admire all the marvelous selections of cheese, bread, fruit, vegetables, wine, meat and fish on display not quite so grand as in Harrods but quite breathtaking in its diversity.


Rules Restaurant
35 Maiden Lane
Covent Garden, WC2
www.rules.co.uk

The Café at Harvey Nichols
Cnr. Sloane Street and Knightsbridge
London SW1
www.harveynichols.com