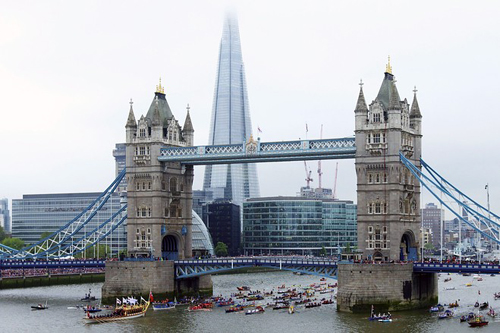 It may have started with the London cabbies, but the city's new skyscrapers all have affectionate but cheeky nicknames: Can of Ham, Cheesegrater, Gherkin, Walkie-Talkie, and the Shard to name a few… They are all easy to spot; their height and outrageous design makes them obvious. It is said that the Walkie-Talkie has created scary wind patterns with its Downdraught Effect and worse, "A Death Ray" as one report called it "channeling the sun in its concave façade to temperatures capable of melting cars!" YIKES! All in all, 230 such towers are in the planning. Wow!
It is the Shard AKA Shard of Glass, Salt Cellar or London Bridge Tower, however that took our fancy! Called the Shard as it truly does look like a large sliver of broken glass, this structure houses, according to its architect, Renzo Piano, "a tower as a vertical city, for thousands of people to work in and enjoy." Besides offices, the Shangri La Hotel and numerous bars on the top floors, it has the sexy HUTONG – my new favorite Chinese Restaurant. If you have been in London within the last two years you may have already had the pleasure of experiencing Hutong, or if you have been to Hong Kong you will recognize this as an outpost of the renowned restaurant with the same name. If not, let me sing its praise.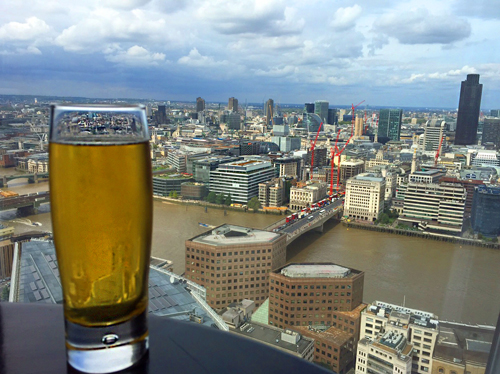 To begin with - and it truly plays into the pure excitement and pleasure of dining there - the Shard is the tallest building in the EU and the view from the 33rd is both breath taking and entertaining.
During our lunch, we watched the standstill traffic patterns of London Bridge – How much fun is that! That said, it is the menu and preparation that truly delivers the perfect meal. The cuisine is inspired from the imperial palaces of old Peking (based on the "Lu School"), but with a contemporary sense of style and innovation.
The menu offered amazing dishes – all of which I wanted. We decided on their set lunch menu:
XO sauce (a spicy seafood sauce) crystal prawn dumpling
Ma la Chilean sea bass and shrimp dumpling
Scallop and kai lan (a Chinese broccoli or kale) dumpling
Vegetable and bamboo pith (a fungus also called veiled lady) dumpling
Dover sole and white of egg drop soup
Guaiwei prawn and cuttlefish, pickled chili sauce
Yangtze chicken with crisp lettuce cups
String beans, king oyster mushrooms & soy
Egg-white fried rice
Wok-fried kai lan with ginger sauce
We all know the dim sum that is offered in our Chinese restaurants – those tempting doughy dumplings that all taste as if they have come from the same kitchen. Well, these dumplings are not those dumplings; these dumplings are Imperial Uber Dumplings! Delicate beyond belief and with remarkable subtle flavors, these precious appetizers were a wonderful beginning to our perfect meal. I even liked the cuttlefish, but the dish that lingers in my heart is the Dover sole soup. Clear but velvet broth with flakes of sole and white egg drop, this gracefully flavored soup makes all the usual sesame oil, soy sauce, flavors of Chinese soups seem pedestrian.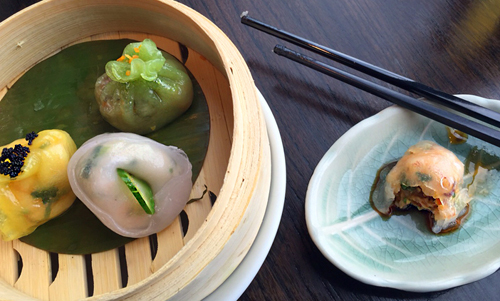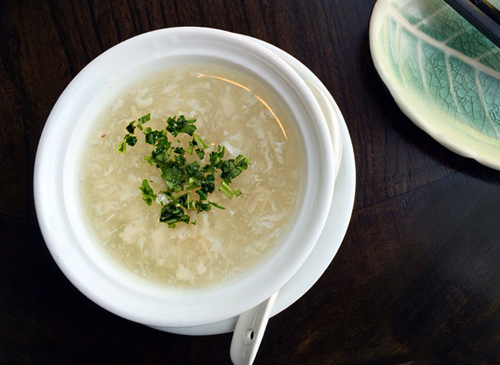 I can't find a recipe for exactly what we experienced, so it has become my quest in life to re-create it.
Matching the views and the food – the service. What a lunch!
PS: The décor is red-hot-sexy, and apparently the view from the urinals is drop-dead gorgeous!
Ah… Girl, look at my view
Ah… Girl, I'm the tallest boy in town
Ah …Girl, my food is hot – my prices (don't ask)
I'm sexy and I know it.
HUTONG AT THE SHARD: 31 St Thomas Street, London SE1 / 44 20 3011 1257 (Reservations necessary, dress code enforced)