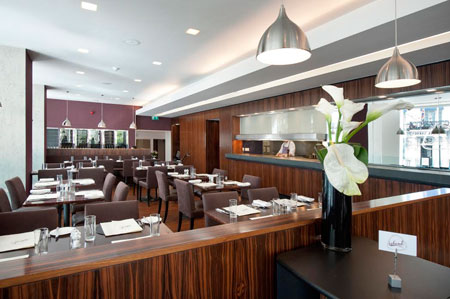 This lively bar and restaurant is situated in the towering Lancaster London Hotel opposite Hyde Park and is a ideal spot to enjoy modern European cuisine served with panache by a friendly staff who have been trained well in the art of taking care of their patrons as well as being knowledgeable about the dishes they are serving and wines they are pouring.
Awarded 2 AA Rosettes for their eco friendly conservancy the restaurant is committed to using local produce when available and the chef early in the morning visits wholesale markets to buy fresh organic foods.
The menu is a mix of contemporary European cuisine and is well received by guests from the hotel and local residents of every nationality who live in the area. An open kitchen gives you the opportunity to watch the chefs at work creating mouth-watering dishes for your enjoyment. The restaurant is split-level with floor to ceiling windows looking out over Hyde Park and is only a minute's walk from Lancaster Gate Tube Station.
A great annual happening is the London Honey Show, which is organised and hosted at the hotel. There are also beehives on the roof of the hotel attracting people from all around the world to enjoy their organic honey.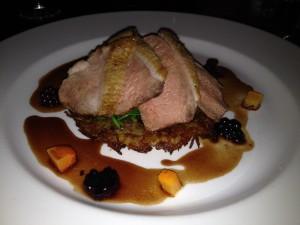 The night I visited I chose the Dressing Ham Duck with roasted red beetroot and parsnips although other great selections like Welsh Lamb char-grilled cutlets and Slow-Cooked Shoulder of Lamb with wilted spinach and butternut squash puree would have made an ideal second choice. There are seafood specialities like Seafood Bucatini - a mix of Tiger prawns, squid, mussels and prawns with Bucatini pasta in a delicate white wine and parsley sauce. Grilled meats like sirloin, ribeye or fillet are all dry-aged British Beef and served with a side order of veggies. The fish are caught in Sussex and Kent daily and the restaurant's dedication to using sustainable products adds to the integrity of their cuisine. Starters like their own House-smoked salmon on chargrilled sourdough bread with dill and horseradish cream also makes a great lunch choice as do the crab cakes and Ragstone goats cheese, chicory salad & red onion marmalade with a rosemary flat bread.
Desserts are hand-crafted and their speciality Chocolate Plate comes with a dark chocolate fondant, white chocolate and coffee foam and chocolate sorbet. The Green apple and Calvados Charlotte served with homemade cinnamon ice cream is another luscious dish. The wine menu is wide and varied with offerings from the New and Old World and there is a fully stocked bar for those who enjoy cocktails.
The restaurant has its own entrance but it is part of the Lancaster London hotel so guests can take pleasure in Island Grill's breakfast menu. Eggs Benedict, golden fried Brioche with fruit salad, hot Porridge with berry compote and honey which is produced by the hotel's own colony of bees are just a few of the morning offerings.
Island Grill has been awarded the Sustainable Restaurant Association's top Three Star rating so you can be sure you will be partaking of not only first class cuisine but it will be healthy too. Head Chef Darren Marshall's commitment to excellence is reflected in his choice of the finest ingredients and creative cosmopolitan dishes from land and sea.
When next in London town be sure to visit this affordable and quite delightful eaterie. You will be well pleased...
Island Grill, Lancaster Terrace, London W2
Reservations: 020 7551 6070
www.islandrestaurant.co.uk