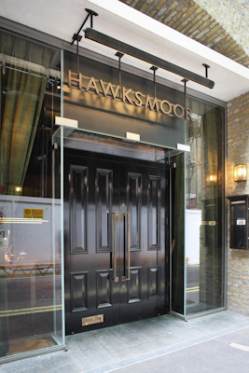 Since (finally) it has been discovered that the fat in beef – oleic acid – is the same heart healthy fat that is found in olive oil, and since fat in beef actually decreases heart-disease risk (something about the ratio of good and bad cholesterol), and if you are not devouring sugars, a good, fatty steak is a good thing! Yes!
While it is still a bit hard to believe, it does make eating steak a bit more of a righteous thrill. And, I have found just the place to indulge in all things beefy! No, not in Peter Luger's, not even in the stockyards of Fort Worth but at Hawksmoor, in the old Combe's brewery in the heart of Covent Garden.
Covent Garden? London?? Oh Yes, and if you also like anything British with the word "sticky" in front of it, this cavernous, un-pretentious but friendly brew house is worth a destination journey. It is also quite possible that a corner table might host one of the West End's glittering stars dining incognito. It's that kind of place.
There were three of us devouring the menu like children: Ooooh Tamworth Belly Ribs, Oooooh Bone Marrow with Onions, Yum, Roast Scallops with White Port and garlic, Potted Beef and Bacon with Yorkshires… (Oooooo Yum)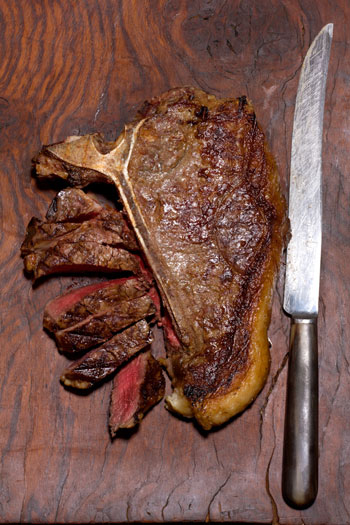 With the hefty main course in mind, we settled on the Doddington Caesar Salad (made with Doddington Cheese from Northumberland - a cross between a fine Cheddar and Parmigiano – and most wonderful.)
But it was the Porterhouse for three and all the really delicious side dishes that made our evening. The steak was perfectly made - crusty on the outside, deep pink in the center and cooked over "real charcoal".
The beef was from a Hawksmoor Heifer – "She's a Longhorn, the oldest pure breed cattle in Britain." The "rest," as they call it - Beef Dripping Fries (OMG!) Triple Cooked Chips, Creamed Spinach, Native Lobster grilled with Garlic Butter, Butternut Mushrooms, and Mash with Gravy to name a few – produced a very fine comfort menu, indeed.
Now to the "sticky" part: Sticky Toffee Pudding (a steamed sponge-like cake with a remarkably subtle but complex flavored sticky sauce), Sticky Toffee Sundae made with Clotted Cream Ice Cream (Oh My. Clotted Cream Ice Cream, I scream), Chocolate and Salted Carmel Tart with Popcorn Ice Cream (huh?) and Peanut Butter Shortbread.
There is more, but why go on; our inner children were already quite busy enough putting sticky fingers in every pot!
Hawksmoor: 11 Langley Street, London | 020 7397 8120
Nancy Ellison, award winning photojournalist and celebrity portraitist, has authored fourteen books of photographs, including "Romeo and Juliet: The Love Story in Dance" and "Starlet". Her latest book is "Wagner's Eternal Ring".