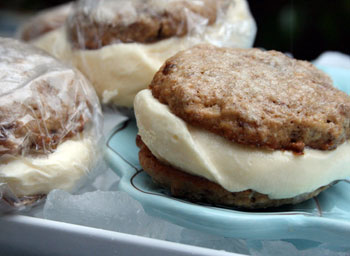 Start with oatmeal cookies (the homemade variety, of course), add ice cream, make sandwiches, then sit back and watch the enjoyment as happy people eat them.
Kids love ice cream sandwiches, and adults feel like kids as they eat them.
Raisins are always a great addition to oatmeal cookies, but when they are frozen, they can get hard and difficult to chew. It seems the perfect way to get their sweet flavor in an ice cream sandwich is to puree them before incorporating them into the dough.
I discovered, too, that giving raisins the puree treatment fools those who dont' care for those little dried grapes. My husband is a good example. He won't eat anything that involves raisins. I offered him one of these cookies, still warm from the oven. After he ate about three of them, he asked, "What is that flavor that I can't quite pinpoint? Dates?" (He likes dates – hates raisins). I thought it safe to share the secret with him. How could he say he didn't like them after already wolfing down three with great gusto? He gave me a sheepish little grin and grabbed another cookie.
The sandwiches keep well in the freezer, of course. I don't know for sure how many days, though. The sandwiches I made disappeared from the freezer in no time.
Your family and friends will scream out loud for these frozen treats.

Crunchy Ice Cream Sandwiches
1/2 cup raisins
1/2 cup butter, room temperature
1/2 cup light brown sugar
1/4 cup granulated sugar
2 large eggs
1 teaspoon vanilla extract
3/4 cup wheat germ, plain
1/2 cup quick or old-fashioned oats
1 cup flour
1/2 teaspoon salt
1/2 teaspoon cinnamon
Vanilla ice cream
Place raisins and 2 tablespoons of the sugar in a blender or food processor. Whirl, stop and go fashion, until pureed.
Beat 1/2 cup butter with remaining 2 tablespoons sugar and brown sugar. Beat in eggs, vanilla and raisins. Add wheat germ, oats, flour, salt and cinnamon. Blend well. Chill dough about 1/2 hour.
From dough into 24 balls. Place 4 inches apart on lightly greased or parchment-lined baking sheets. Flatten to 3-inch rounds with bottom of moistened glass dipped in some sugar. Bake in preheated 350-degree oven for 10 to 12 minutes, or until done. Remove from baking sheets and cool on wire racks.
Place generous scoop of ice cream on bottom side of 12 cookies. Top with remaining cookies. Press together, sandwich fashion. Place on tray. Freeze until firm. Wrap each separately and store in freezer. Makes 12 sandwiches.
If you'd like, make some chocolate glaze and dip each frozen sandwich halfway into the glaze. Return to freezer to set chocolate.
Chocolate Glaze
1 (6-ounce) package semisweet chocolate morsels
6 tablespoons butter
Combine chocolate pieces and butter in small saucepan. Stir over medium heat until melted and blended.
Sue Doeden is a popular cooking instructor, food writer and integrative nutrition health coach. She is the host of Good Food, Good Life 365 on Lakeland Public Television. Her own hives full of hardworking bees and her love of honey led to the creation of her recently published cookbook, Homemade with Honey.