Blueberry Sour Cream Ice Cream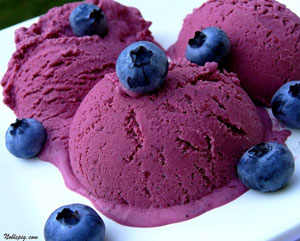 It only seemed fitting to make this with all the crazy heat around here. Not to mention my blueberry trees (yes, they are that big) are loaded...I mean loaded with berries. It has been fun going outside and picking these, bringing them inside and creating a meal. I not sure who loves it more...me or the kids.
I searched for the perfect blueberry ice cream recipe, I didn't have to look further than my own cookbooks. Dorie Greenspan had this recipe for Blueberry Sour Cream Ice Cream. Wow. It almost looks like sorbet but is so rich and decadent tasting. There is almost a cheesecake taste to this ice cream. This made the hubby very, very happy.
INGREDIENTS
1 cup blueberries (fresh or frozen, if frozen, thaw and drain)
1/3 cup sugar, or more to taste
Pinch of salt
Grated zest of one lime
Juice of 1/2 a lime, or more juice to taste
3/4 cup heavy cream
3/4 cup sour cream

In a medium saucepan cook blueberries, sugar, salt, lime zest and juice over medium heat, stirring, until mixture boils and the berries pop and soften, about 4 minutes.

Pour the berry mixture into a blender and whirl until a seemingly homogeneous puree is achieved, about 1 minute. The mixture will not be completely smooth. Add the heavy cream and sour cream and pulse to blend. Taste and add a bit more lime juice or sugar if you choose.

Pour the blend into a bowl and refrigerate until it is chilled before churning into ice cream.

*I used the best quality heavy cream and sour cream I could find.
Adapted from Dorie Greenspan's Baking From My Home to Yours