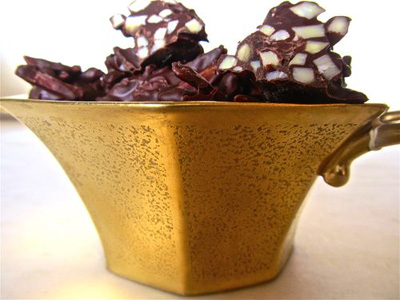 Like the perfume of freshly squeezed orange juice or the whisps of flavor that float on the air when chicken soup is simmering, the smell of melting chocolate and almonds softens my resolve not to eat just one of what I am planning to make: chocolate rocks.
They couldn't be easier. Or more forgiving. Or more interesting to experiment with. Caramelize some whole almonds, and hide one inside. Chocolate rocks are prefect for hiding things. A raisin. A hazelnut. Dried cherries or cranberries. Minced orange peel. Before you put them in the refrigerator, sprinkle them with fleur de sel. Or roll them in grated coconut. Cinnamon dust. Star dust. Whatever you have. And the best of all is that they take just minutes to make.
This is the traditional Rochers aux Amandes recipe they make in France, but feel free to play with it! And expect to eat more than one. They are elegant and decadent enough for any dinner party. And just one goes very nicely on the saucer beside an espresso.
Chocolate Rocks
Ingredients:
6 ounces semi-sweet or bitter dark chocolate
1 tablespoon unsalted butter
1 teaspoon Medaglia D'Oro Espresso Instant Coffee
2 x a 2.5 ounce package of almond slivers
Cooking Directions:
In a double boiler, melt the chocolate, butter and the instant espresso coffee granules together, then gently stir in the almonds.
Remove from the heat and keep stirring until the chocolate mixture is cool enough to handle and shape.
Lay out a piece of parchment paper on a baking tray and begin shaping the chocolate mixture into little balls or rocks. I use two teaspoons, one to hold the chocolate mixture, the other to push it off onto the parchment paper.
Refrigerate for 30 minutes, then enjoy! Makes 20 pieces
Hillary Davis is the author of French Comfort Food, Cuisine Niçoise, and A Million A Minute. She is presently at work on her next cookbook. You can follow her food adventures in France and around the world on her blog Marché Dimanche.