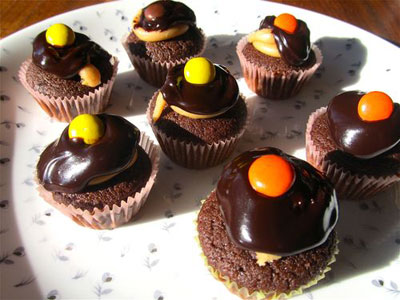 Rich, dark, devilish. Like a big Reese's peanut butter cup. The recipe for these cupcakes sounded amazing, although once I started following it I had to tweak it a bit to get it to work. When they were finished, they were sublime!
I used two 12-mini muffin tins to yield 24 tiny cupcakes. They have a small mound of peanut butter frosting on top, then a glaze of dark chocolate and a Reese's peanut butter candy on top. I know you will love these once you try them.
They are even great right out of the freezer!
First, make the mini cupcakes.
Heat the oven to 350 and butter and put mini cupcake liners in each mini muffin pan.
Ingredients:
12 tablespoons unsalted butter
1/4 cup instant Megdalia D'Oro Espresso powder
1/4 cup cocoa powder
1 cup dark brown sugar
1/2 teaspoon salt
1/2 teaspoon baking powder
1/4 teaspoon baking soda
1 1/3 cups flour
1/3 cup buttermilk
1 large egg
1 tablespoon vanilla extract
dash or two of cinnamon powder
Method:
1. In a bowl, sift in all the dry ingredients (flour, baking powder, baking soda, salt).
2. In a glass bowl, put the butter, espresso powder, cinnamon powder and cocoa powder. Cover with plastic wrap and microwave 2 minutes. Be careful removing the plastic wrap, then whisk together the ingredients until the mixture is smooth. Whisk in the brown sugar until smooth.
3. In a glass bowl, whisk together the egg, vanilla, and buttermilk.
4. Whisk the warm cocoa mixture into the dry flour mixture, then stir in the wet mixture until just combined.
5. Drop batter into each mini muffin paper.
6. Bake about 20 minutes, or until done. Cool.
Now you want to make the peanut butter topping that you will mound on top of each mini cupcake.
Ingredients:
1 10-ounce bag of peanut butter chips
1 cup confectionary powder
1/2 cup heavy cream
Method:
1. Simmer the cream and then pour in all the peanut butter chips. Turn off the heat and let stand until the chips are melted, then whisk all until smooth. Refrigerate the mixture for about 20 minutes. Beat in the confectionary sugar a little at a time until you reach a consistency you think will mound nicely on top of each muffin. You don't have to use all of the confectionary sugar, or you can!
2. Scoop into a pastry and pipe on top of each mini cupcake or take a small spoon and scoop some onto the tops and then with a wet finger shape into a smooth mound.
Next, you want to glaze them.
Ingredients:
1 tablespoon unsalted butter
6-8 ounces bittersweet chocolate
1 tablespoon water
Method:
1. Place the butter and chocolate and water in a glass bowl. Cover with plastic wrap. Microwave 2 minutes or until the chocolate melts. Whisk until smooth.
2. With a spoon, drip and drizzle the glaze over the peanut butter mounds on each mini chocolate cupcake. You can do a lot or a little according to your taste.
3. If you have them, top each one with a Reese's piece for decoration.
Enjoy!
Hillary Davis is the author of French Comfort Food, Cuisine Niçoise, and A Million A Minute. She is presently at work on her next cookbook. You can follow her food adventures in France and around the world on her blog Marché Dimanche.