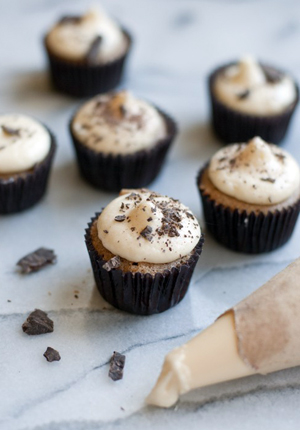 The gluten free cupcake had become my nemesis. Until these. Several failed attempts at making both vanilla and chocolate, gluten free cupcakes did not discourage me. Cupcakes are a household favorite and not having these in our recipe binder has made not only my kids sad, but me as well (well, maybe not so sad, more disappointed).
I originally came up with these for one of the many Halloween parties we were invited to this year. They were so good that I recreated them again, for an event, last week.
A new, favorite teacake recipe is now the inspiration for many wonderful cakes and cakelettes. Infusing seasonal flavors and ingredients into the original base (which is the perfect combination), allows me to introduce old favorites using whole and gluten free ingredients.
Omitting maple from the original recipe while adding fall spices gave me the end result I was looking for. Topping them off with a dulce de leche buttercream was, literally, the icing on the cake!
Pumpkin Spice Cupcakes & Dulce de Leche Frosting
Ingredients:
4 ounces | 114 grams | 1/2 cup (one stick) unsalted, organic butter
6 1/2 ounces | 180 grams | 1 cup minus 2 tablespoons maple sugar
2 large, organic eggs
3 ounces | 80 grams | 1 1/4 + 1 tablespoon Greek yogurt
3 ounces | 80 grams | 1/2 cup millet flour
2 1/2 ounces | 70 grams | 1/2 cup + 2 tablespoon almond meal
1 ounce | 30 grams | 3 tablespoons sweet rice flour
3/4 teaspoons baking powder
2 teaspoons ground cinnamon
1/8 teaspoon nutmeg
3/4 teaspoon ginger
1/2 teaspoon ground cloves
1/2 teaspoons salt
1/2 teaspoon pure vanilla extract
2 cups dulce de leche buttercream
Instructions:
For the cake:
Preheat oven to 350°F. Line muffin tins with paper liners and place on two parchment lined jelly roll pans. Set aside.
In a medium bowl, whisk all the dry ingredients. Set aside.
In the work bowl of an electric mixer, cream the butter, sugar until combined. Add the eggs, one at a time, scraping the sides of the bowl after each egg. Add the yogurt and mix until all ingredients are incorporated and you no longer see any white streaks in the batter. Add the vanilla.
With the mixer on medium speed, slowly add the dry ingredients and mix well.
Using a 1 tablespoon ice cream scooper, place batter into prepared muffin cups.
Bake 18 – 22 minutes or until the tops are a golden brown and a toothpick inserted in the center come clean.
Let cool completely on wire racks before frosting.
Yield: 48 mini cupcakes
Susan Salzman writes The Urban Baker blog to explore her dedication to good food in the hope of adding beauty to the lives of her family and friends.