My mother always had soup on the stove or in the refrigerator waiting for us when we got home from school. Her beef shank based soup was the one that I loved the most. When I make it, it's like a little visit with her, crowned by eating the marrow from the shank as she watched and smiled lovingly.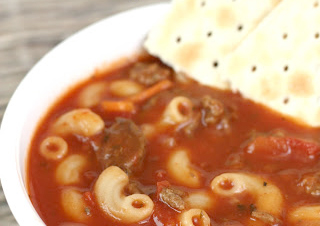 Beef and Macaroni Soup
1-two-inch thick beef shank with bone
6 cups of water, enough to cover the beef by an inch
1 - 14.5 ounce can of whole tomatoes, broken up with your hand into large pieces
1 large onion, chopped into 1/2 inch pieces
1/2 cup chopped celery
1/2 cup peeled and chopped carrots, 1/2 inch pieces
Salt, pepper and a large bay leaf
3/4 cup elbow macaroni
Simmer the shank, water, tomatoes, carrots, onion, celery, salt, pepper and bay leaf for an hour and a half with a cover on. Remove the beef shanks and let cool until you can cut it into ½ pieces. Add ¾ cup of elbow macaroni and stir so it doesn't stick to the bottom. Cook until the macaroni is tender. Add the cut beef back in and simmer for a few more minutes to allow the flavors to marry. The one you love gets the bone marrow.
Brenda Athanus runs a small gourmet food shop in Belgrade Lakes, Maine with her sister Tanya called the Green Spot.
The Green Spot
This email address is being protected from spambots. You need JavaScript enabled to view it.
207.441.9327