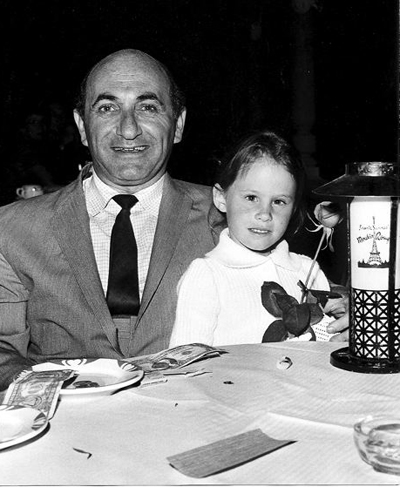 Now that awards season is over I have a big one to give out.
Let me say at the start, I go to too many restaurants. I was basically raised eating in fancy restaurants. Long before other parents took their kids out to dinner, mine were trendsetters. We were taken everywhere. We were seen and heard. But, we ate our gourmet meals and behaved. Then it was straight home to a proper bedtime.
A friend's mother, whom I hadn't seen since I was a kid, recently told me that the first time she met my family, she had been eating with her husband at Villa Capri and spotted us, kids and all, dining at this almost exclusively grown-up place. What she noticed was how well behaved we were.
My parents rarely adhered to the unspoken rules of the 1950's. They didn't believe in babysitters. Aside from Villa Capri, we ate at Chasen's, Scandia, Brown Derby, Moulin Rouge, and every Sunday night at Matteo's. We even lived for a brief period at the Garden of Allah Hotel, though it was long after guests like Dorothy Parker, Robert Benchley and F. Scott Fitzgerald had checked out. Anyway, that's a little of the backstory.
Would today's Hollywood even exist without its bistros? Nobu, Palm, Mozza, Craft. The oil that lubes the wheels in this town is extra virgin olive oil, preferably for dipping the great bread into at Giorgio Baldi in Santa Monica Canyon. And no great restaurant would survive here or anywhere without those unsung heroes of fine dining – the bussing staff. Technically bussers. But usually referred to as "busboy," an antiquated term it may be time to lose. Setting tables, clearing tables, cleaning tables, bringing food, you name it, quietly and efficiently. If the service is good, much of the credit goes to them. And that includes "busgirls." In England the job is often referred to as a waiter's assistant, a more dignified job description, if you ask me.
Food is so important to this town. It's the new sex. Fifty Shades of Gravy. So, let me tell you whom I would thank when I get my academy award. You know, when they start giving them out to civilians who aren't even in the business. After I thank "my team" -- all of my agents, PR person, the cast, the director, my kids and my husband (please let me remember), I will also thank craft services and the caterer, who provided the meals on our long shoot.
Now let me get to the trophy I want to give out. Ready?
And the award goes to... drumroll... Jesus. No, not that Jesus. This one is pronounced Hey-seus.
He is the busboy -- I mean waiter's assistant – I adore. He might be the hardest working person I know. He not only works at one of my regular haunts, The FarmShop, he also works at Tar and Roses, another favorite.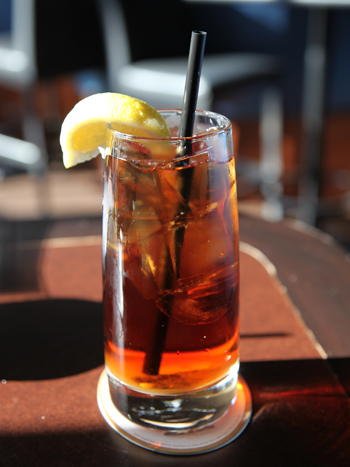 When I enter Farmshop for lunch, which happens to be during Jesus's shift, he's ready for me. Here is how it plays out. The minute I sit down, before I even look at a menu, or check the phone for word of my late dining companion, here comes Jesus carrying my iced tea. He also carries the warmest smile. We hug like we haven't seen each other in weeks, though usually it's not that long. Then I'm set. I pull out my Stevia, add five or six drops to the tea, and drink the minutes away until whoever is meeting me finally arrives. Oh, did I mention I'm prompt? I am.
If you think Jesus is the only nominee, you would be wrong. He had some stiff competition this year from Francisco who also works at two restaurants: Maison Giraud, in the Palisades, and Moku Sushi, a Japanese restaurant in the Palisades Highlands. He's first runner-up. If for any reason Jesus cannot fulfill his obligations as the winner, Francisco steps in.
My dad is the reason I'm prompt - and he was also my role model for appreciating the underpaid workers who service this town. Here is what he said a few months before he died when being interviewed for a documentary: "I treat the guy who's parking my car the same way I treat Lew Wasserman." (For latecomers, Lew was a big time studio executive and head of MCA.)
True to his word, my father had a favorite busboy at Nate n' Al's. I shouldn't tell you what he called him because all these years later it sounds a bit racist, but okay, he called him Zapata -- as in Viva Zapata, the Brando movie about the Mexican revolutionary. That was my dad's humor. He always handed "Zapata" a few extra bills in order to assure his coffee would arrive piping hot the minute he sat in his regular booth. This was all before Kaye, the waitress he adored, arrived to scoop out his bagel. I learned from the best. I, too, like to hand over a five because, you know, the cost of living has gone way up. Although, truth is, I'd much rather hand over a gold statuette.